Where to Shop Massive Sale & Offers Online!
You don't have to wait for Black Friday to shop because there are already some insane discounts to satisfy the shopaholic in you!
Are you ready? Most importantly, is your wallet and paycheck ready for this? If yes, then check the bellow list for all the places you can shop online from at the best discounted price.
1- Dresscode
Online store Dresscode always has massive sale and they have everything! From cute dresses to Pajamas and track suits. The winter collection is already here and it comes on time where DC is celebrating their anniversary, so if you click on the category 'DC anniversary sale,' you will be met with the best prices for the coolest items.
2- American Eagle
American Eagle has this huge sale on both winter and summer collection! Our own personal picks would be their cozy sweatshirts and jackets.
You can shop both for women and men, both collections are a must have!
3- Bath & Body Works
If you're all about skin care routine and body care in general, then don't miss Bath & Body Works' massive discounts and offers!
They have a buy 2, get 1 free, a buy one get one free on hand soaps and more!
Our top picks are 'Into the Night' and 'Mad About You.'
4- Youthful
Enjoy the flash sale from Youthful and end of summer sale! The brand is proudly made in Egypt and they offer a variety of hip and comfy jackets. If you're a colorful person, then you sure will love their collection.
5- H&M
We can't talk about a massive sale without mentioning H&M, who always make irresistible offers!
They now have a 20% off on knits for sweater weather. They also have an up to 70% discount, and a buy one get one free on accessories.
6- Faces
Faces has a massive sale on fragrances, makeup and skincare products, starting from 20% plus promo codes!
Enjoy the sale online from the comfort of your home, but don't go overboard because Black Friday starts soon!
The Best Black Friday Deals & Offers That You Shouldn't Miss Out On
Our favorite sale time of the year has come with so many offers and discounts that can not be missed! Once again, it's this time of the year where you get to buy everything at the best price, from clothes, makeup, accessories all the way to electronics!
This year, we bring you the best deals that you shouldn't miss out on and our own recommendation for what items you should get your hands on quick! To all the shopaholics, this is a gentle reminder that just because it's on sale doesn't mean you need it!
1- Noon
Starting with the yellow Friday at Noon of course, because it has everything you can wish for! But to us, makeup and electronics deals are the best. You can get your hands on airpods or smart watches at the best prices with discounts up to 60% plus the promo codes provided by influencers.
Promo codes: LAILA50
4U77
Yalla10
2- Souq.com
The White Friday at Souq.com starts in 6 days! With up to 70% discount on fashion and 30% on home appliances. We recommend checking their fashion section for watches, as they have an insane sale on high end brands!
3- Homzmart
The black Friday at Homzart offers discounts up to 70% until the end of November! It's a chance for all brides who are still furnishing their homes, or for someone who's looking to renovate their house at the best price.
You can shop several brands from Homzart including Asfour Crystal, Oriental Weaves, Kandil and more, so don't miss it out.
4- Miss L'
Catch the golden Friday at Miss L' now for some of the simplest and nicest golden pieces! It makes the perfect gift for someone you love dearly and they now have up to 50% discount on selected items.
5- Max Fashion
Max fashion has the craziest discounts with items starting at 400 LE and less! Shop from their website for a wider variety and free shipping for order above 400 EGP. You can also return items from the store. Our personal recommendation is to shop their PJs and from the kids' section.
You can also use this promo code for additional discount: MD702
6- H&M
Again, H&M is having massive discounts on selected pieces and you can use this promo code: EG639 for an additional discount. Their knits are a must have and the accessories will also compliment all of your looks and they come at a very reasonable price. They have up to 50% discount and free shipping too!
7- Jumia
Same as Souq.com and Noon, Jumia is having a massive sale during their black Friday with a sale reaching 70%, we recommend shopping their fashion section or electronics for the best prices.
8- American Eagle
Our favorite brand continues their sale with more offers! You can buy fleece tops and jogger, 2 of them at the price of 1400! What we recommend of course is to shop their jeans and winter wear.
#StandWithCreatives Goes Viral To Support Artists Affected By the Pandemic
The hashtag #StandWithCreatives has been going viral among celebrities, public figures and creatives, it is one for a good cause that aims at supporting artists and creatives whom businesses have been affected by the pandemic.
The campaign launched by Fashion Trust Arabia, was intended to shed the light on creatives but what happened instead is that a supportive community resulted from the campaign.
Designers, artists, creators have all gathered their voices together and used their influential platforms, to highlight their creative fellow colleagues and raise awareness on the cause.
With the devastating impact that COVID-19 has imposed on the fashion scene, it has affected the lives of many, but Fashion Trust is hopeful that 'all artists will rise to the occasion and lead the way through supporting communities and bringing the beauty of our region to life through creativity.'
The campaign will help give the exposure and recognition that aspiring creatives deserve. "By joining the campaign, you would be enabling one of the most essential aspects of life: creativity."
How to take part? Well, if you have an influencing platform, you can use it to help spread the message, head over to Fashion Trust Arabia website now to follow the lead of many others.
If you are a designer based in the MENA region and your business has been impacted by COVID-19, the #StandWithCreatives Fund will soon be available. So stay tuned for the announcement regarding applications and eligibility details.
Here are some of the celebrities and influencers who have taken part in the campaign.
Ralph Lauren Donates $10 Million for Coronavirus Cases
Throughout the beginning of the Coronavirus, many industries had suffered greatly. For instance, the Tourism industry had suffered tremendously due to the halting of flights.
Another industry that has faced severe loss is the Fashion Industry due to staff layoffs, production halt, and closed stores. Many people have stopped purchasing clothes altogether because of the tight budget they have set from themselves.
Which is why, in critical times like these, people are trying to give as much as they can and offer extensive resources to help out the people that are in deep need as well as employees.
Believe it or not, Ralph Lauren has pitched in by donating $10 million for COVID-19 relief. It was a very noble move for him to be donating such a large amount to help out his people. So far, this donation has been the largest among American Fashion brands.
Other fashion leaders have been contributing in other ways such as creating masks, hand sanitizers, and much more. For instance, Egyptian local fashion king Kojak has created his own line of masks to donate to Al Abassiya hospital.
Other known brands such as Prada, Brandon Maxwell,Estee Lauder, and much more have joined together to help find contributions for this pandemic outbreak which is very kind and genuine of them to be doing so.
The donations that have been made by Ralph will go to the World Health Organization's Solidarity Response fund. In return, WHO will be offering financial aid to the Ralph Lauren Employees due to the rough circumstances if their situation.
Another contribution will go to the company's very own fund, Pink Pony, a cancer fund to support cancer institutions whom are extremely vulnerable at this time of the pandemic.
Aside from that, Ralph Lauren is also currently working on assessing the technical requirements for isolation gowns and medical masks to help protect being transmitted with the COVID-19, in hopes of supporting people globally.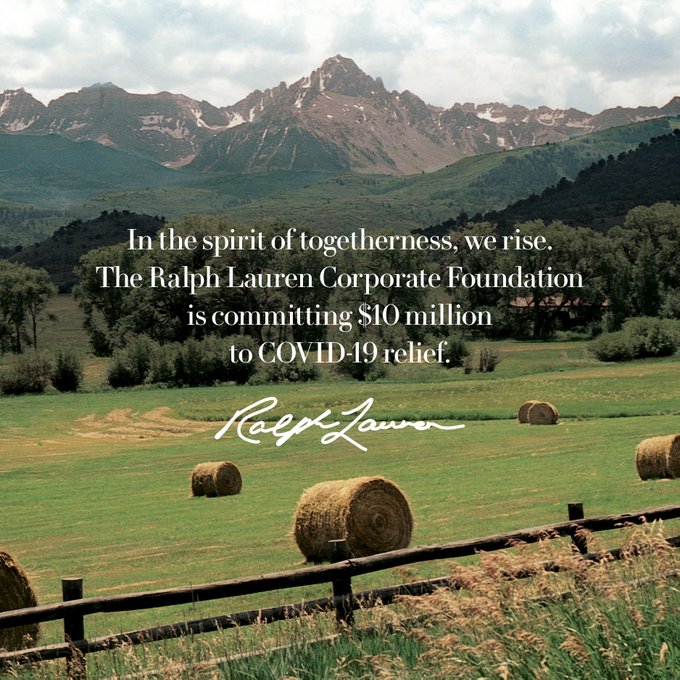 "At the heart of our company, there has always been a spirit of togetherness that inspires our creativity, our confidence and most importantly our support for one another. In the past weeks and months, that spirit has never wavered," Lauren said in a statement. "We believe that no matter who you are or where you are from, we are all connected. That is why we are taking significant action to help our teams and communities through this crisis."