Sukun Studios: A Yoga and Wellness Platform
At a time when technology has made our lives easier and where we all have greater means to be connected, cases of anxiety, depression, disconnection, self loathing and loneliness are flying through the roof.
The challenge most of us face is finding happiness; but happiness is fickle, so the real challenge is to find your… Sukun. Sukun Studios is a hub that focuses on providing you with the elements that help you overcome the emotional and mental challenges holding you back in the present day.
Launched in the middle of the pandemic that took over the world this years, Sukunstudios.com is the first Yoga and Wellness platform in Egypt and they compete with "Alo Moves" throughout the Middle East. The online platform aims at providing high quality classes, series and podcasts for Yoga, Pilates, meditation and more.
The inclusive platform features some of the top instructors in Egypt with more specialists joining from across the Middle East providing lessons and classes, shot and produced at a premium standard. Sukun members get access to all the content and series that they can follow anytime from the comfort of their home or from any place they wish.
The platform was launched by Sarah Abdelmoneim, a highly experienced yoga specialist also the host of Nile FM's Big Breakfast show. Sarah spent her life working her way up to senior positions in the corporate world until she decided to pursue her infatuation for self healing and wellness and moved to Bali for a year. During her time in India and Bali, She became certified in many disciplines in wellness with the goal of returning home to bring with her a treasure trove of knowledge to launch the brand that would be the catalyst for self healing and growth in the region.
In a matter of months, the platform grew attracting more members with growing popularity. Leading Sarah to launch the Summer Program in the North Coast. Sukun Studios launched classes in both Bianchi and Marassi with a plentiful portfolio of teachers and classes on the lovely beachfront.
Sukun launched two key retreats, one at the North Coast in July in collaboration with 'Be Good to You' and recently this October in Nuweiba retreat in collaboration with nine healing vibes at Aqua Sun Sinai. Sarah along with three amazing teachers, Laila Farouk, Cherine Samir and Noha (Zelphira) took the participants on a journey of 'Rebirth' through the use of yoga, sound healing, breath-work, hiking and exploring the gem that is Sinai.
Sarah hopes that her brand and the activities they provide are able to help everyone to "silence the chatter of the minds, to connect with their true selves." She hopes that through the brand, people can find their "SUKUN". The brand is growing by the day with numerous ideas and new concepts that are yet to be unleashed.
Mohamed Ramadan Under Fire After Posting A Picture With an Israeli Singer
Mohamed Ramadan sparked controversy and is currently under fire for posting a picture with an Israeli singer, the thing that angered many of his fans and even though the singer and actor deleted the photo shortly after, he's still under attack.
According to Ramadan, he didn't know the nationality of the person and he says that normally he doesn't ask each and every person who asks to take a picture with him about his nationality.
However, social media people shared videos of the party that Ramadan was at and they're saying that it included many Israelis and that one of Israel's popular songs was played during the party.
The singer and actor Mohamed Ramadan responded today to all fans saying that he normally doesn't ask people about their nationality and that he is 100% pro the Palestinian case, attached with his tweet was a video of him with a Palestinian.
مابسألش عن بلد اللي بيتصور إلا لو هو لوحده قال وده ڤيديو في نفس الوقت ونفس المكان مع شاب فلسطيني!! وبوجه فيه تحية للشعب الفلسطيني الشقيق !! تجاهل البعض لهذا الڤيديو يأكد ان القصد ليس القضية الفلسطينية ولكن قضيتهم الحقيقية هي المحاولة ال١٠٠٠ لإيقاف نجاحيوشعبيتي #ثقه_في_الله_نجاح pic.twitter.com/UxMniEwXcq

— Mohamed Ramadan (@Mohamed_Ramadan) November 22, 2020
The head of the Egyptian Acting Syndicate, Ashraf Zaki, confirmed during his phone call with an Egyptian TV program, that he communicated with Muhammad Ramadan, and the latter denied his knowledge of the Israeli artist, saying: "I swear to God I didn't know who he was, I was in an Arab country and took this picture."
What do you think? Are you with or against the action of Mohamed Ramadan?
Tamer Hosny and Bassma Boussel Are Splitting Up and Drama Followed Them on Social Media!
After eight years of marriage, superstar Tamer Hosny and Morrocan star Bassma Boussel filed for a divorce, the news that shortly went viral.
Boussel posted on her official Instagram, a story expressing how upset she is at fans, who keep sharing photos of her and Tamer Hosny. She urges her fans to stop sending footage or tagging her and consider her feelings.
Later on, she added that they're already in the process that follows their separation and are on the final regulations of divorce. She didn't keep that story for long though and deleted it shortly afterwards.
The news of their divorce has gone viral in a short time, even though Boussel didn't keep the story for long. It's currently one of the widely discussed topics, and the couple are urging people to respect their privacy.
We wish them both the best and for god to grant them peace.
After Months of Dispute, Assala and Ahlam Finally Reconciled!
We have some uplifting news for you! After months of dispute and tension between Assala and Ahlam, both superstars finally made up following the interference of Ahlam's son Fahed Mubark who tweeted that his mother actually listen to Assala more than he does.
Assala then replied to his tweet expressing her love to Ahlam despite everything that happened between them, she even joked with her and asked her which song she liked the most in the album.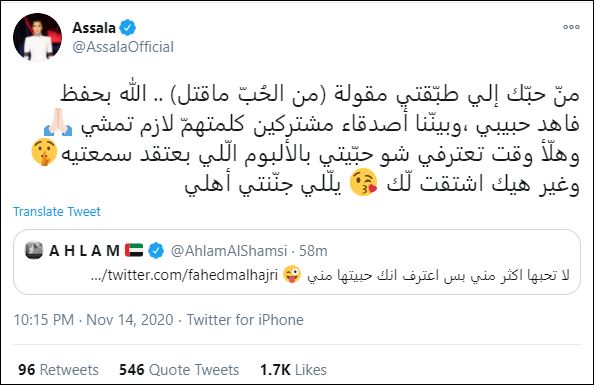 The two superstars then started to exchange tweets, to which Lebanese star Elissa replied and expressed her happiness that they have finally made up, saying that she love the both of them and wishes them good. This isn't the first time Elissa tries to make things better between them both.

The story of this dispute first started when Ahlam congratulated Assala for her new song "Bent Akaber," but when Assala didn't reply on the post, Ahlam deleted it and the clash ended with her blocking Assala on Twitter.
We're just glad that after all this time, they both admitted their love to one another and Ahlam even tweeted a reply to her son that she loves Assala more than he does.
We wish them both happiness and for things to remain peaceful between them both.