2020 Olympics Officially Postponed
Since the beginning of the COVID-19 outbreak, many people and countries as a whole have been taking drastic measures to help keep the virus at bay and their people safe. At first, we haven't imagined the magnitude of the virus and how badly it would affect things and people on a global scale.
It started out with talk of a few football leagues and matches "maybe" getting postponed for the time being. That alone had left football maniacs who were looking forward to such events quite angry and worried. Regardless, they hadn't thought of things getting worse and claimed that it was just a vague idea being proposed.
A week later and everything had gone up in flames. One by one, it had been confirmed that these leagues and matches are postponed and some even cancelled unfortunately. On the long run, the countries were forced to shut down all public domains that could help gather people around and make the virus spread even worse.
Schools and Universities were also shut down to be thoroughly quarantined ans steralized giving people the privilege of working from home . From there, things had began going haywire. Everything was being shut down for sanitation and people were sent home to break the chain.
What was uncertain about being postponed was the 2020 Olympic Games that people were seriously looking forward to. This is one of the most important sports in history and people from various countries travel the globe to watch such an event. This is exactly why it has officially been decided that the Olympics is being postponed till 2021. What?
In regards to the millions of people who were going to show up in Tokyo to watch the games take place, this event had to be postponed for countless reasons. First of all, there are currently no flights or airlines that are working because of the Coronavirus outbreak. Secondly, the athletes might be physically prepared to compete but mentally they are extremely stressed and worried leaving them unfit to participate. Lastly, many athletes have been infected with the virus which means that the teams would be uneven thus the scores would be unfair.
"Our athletes have been magnificent in their positive attitude to training and preparing, but the stress and uncertainty has been extremely challenging for them."- Australian Chief
At first, both Australia and Canada had already decided to not compete and withdraw from the Olympics this year due to safety reasons. After some serious reconsidering, it was decided altogether that the games would be postponed till next year.
It was announced as of Sunday that 5,683 cases have been confirmed in the UK leaving at least 281 dead. Do you guys expect that in the health state the world is in, it's fit to go on with initiating the Olympic games? No way.
It'll jut be a year away, it's not like it's permanently getting cancelled. We'd rather be safe than sorry.
Highlights from "One World Together at Home" Concert
As you all know, yesterday's calendar marked the celebration of World Heritage Day. In light of the coronavirus, World Heritage Day was very important for us and many people have showed appreciation and gratitude.
Many countries have celebrated this special day in their own way. For instance, Egypt gathered a large number of well know singers such as Tamer Hosny, Nancy Agram, Mohammed Mounir, and much more. The concert was amazing and quite touching, it was exactly what we Egyptians needed.
Another main event that witnessed dozens of stars on a global broadcast called "One World Together at Home" was magnanimous. It had a great combination of comedy, music, and most importantly stories from our saviors: Doctors, Nurses, and Grocery Workers.
An additional 6 hour streaming event included important appearances by Lewis Hamilton, major sports stars, British Forumula One, and much more. Also, many influences had joined this special day.
The main motive behind the concert that had occurred yesterday was to show unity and solidarity for front-line workers. This message truly moved thousands of people across the globe.
The highlights of the event was that it was organized by our one and only savior: World Health Organization (WHO). This was very important to point out because they aim to spread awareness regarding social distancing as well as trying to protect people from catching COVID-19.
Another important highlight of the night was the appearance of your favorite singers such as Lady Gaga, Celine Dion, Billie Eilish, Elton John, Muchael Buble, John Legend, and more. They all did an amazing effort and were like music to our ears.
The event aimed in encouraging companies as well as philanthropists to contribute to the WHO Solidarity Response Fund for COVID-19. For instance, Lady Gaga alone had raised $35 Million to help aid these corporations.
They also highlighted how you don't need money to attend this worldwide concert, that all you need to do is attend and enjoy this unifying moment.
 "Put your wallets away, your credit cards away, anything away that you need to and sit back and enjoy the show that you all very much deserve," Gaga told a news conference last week.
We would like to thank everyone who partook in joining this event and entertaining people all around the globe. People sang their hearts out and chose amazing songs to play for people. You left our hearts warm and full of love.
How to Prepare for Ramadan: Quarantine Edition
This year, when the calendar struck 2020, the world has taken a bizarre turn. The novel coronavirus had finally shown its true colors and has taken over the entire world. This has left us all in quarantine as well as curfew and laws to abide by. Not just that, but it has left us all in a terrible depressive state.
Almost everything that has anything to do with gathering has been either cancelled or postponed which left us all quite bummed out. In terms of religion, Christians and Muslims are devastated for being incapable of celebrating important events this year.
For instance, Easter has been cancelled in Egypt in fear of large gatherings worsening the situation at hand. Worst part of all, Ramadan and Eid will play out quite differently for us all, which is why, we need to be prepared to get out of this depression we've all found ourselves in by getting ready for a weird yet holy month of Ramadan.
 Put the Needy First
The coronavirus has left Egypt in a bit of a mess, especially for people living in the streets with no shelter or food to let them live by. Which is why, the most important thing to do this Ramadan is to remember them by going through your entire wardrobe and shoe cabinet and get rid of the things you do not need or already have in excessive amount. Keep them in your prayers and remember them on a daily basis by trying to do something good for them. Remember, they are the ones suffering the most in times like these.
Shopping List
First things first! Get your notepad out and start jotting down all the things you'll be needing for Ramadan. Whether it's pasta, rice, and other ingredients to create your perfect oriental ramadany dish, you need to be fully stocked! Also, don't forget the decorations!
Make sure to write down essentials such as toilet paper and any other thing that your family may need. It is crucial for us to keep the needy in mind by gathering up as much items and food that you can to put in order to give out to the poor.
Clean, Clean, Clean!
Before officially starting your Ramadan preparations, it is a must to clean out your entire house from top to bottom. Cleaning is a great way of setting up and preparing your space to allow room for positive energy. Cleaning is some sort of a way to cleanse the energy around your house and allowing the light to come in. This step is very important to having the right Ramadan vibes.
Setting -Up the Vibe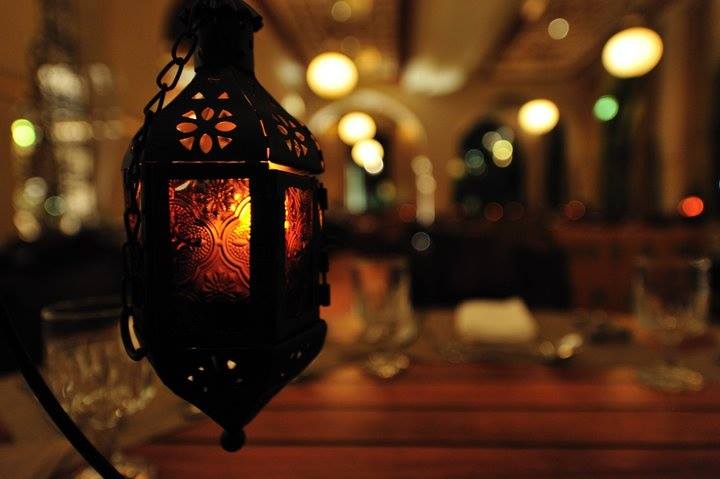 Since we're all in a bit of a rut and are upset with being incapable of having gatherings with friends or family in light of social distancing, we cannot let that stop us from setting up aa Ramadan vibe for our household. If you'd like, change the order of your furniture and allow some newness enter. What's the best part of all is that you get to lay out all the cool Ramadan decorations you've stored from last year. From table clothes, to lantern lamps, it's time to get pumped!
There you have it folks, your ultimate guide to a holy Ramadan. Yes, things will be different this year. But remember, it's all about spreading positive vibes.
Coolest Online Competition in Town: "Downtown on Canvas"
In rough times such as now when the Coronavirus pandemic has taken over the entire world, people struggle to find ways to be creative let alone stay motivated. On the bright side, there are many things you could do these days that could give you the sense of imagination and creativity that you used to have.
With that said, Downtown Cairo and Al Ismaelia have partnered together to create something wonderful for the people of Cairo. They are inviting everyone who knows how to hold a brush and get to working on your paper. The aim is to recreate how you'd like to add color and paint onto downtown's beautiful landmarks.
In an art exhibition that was held in February in AUC's downtown campus, one of the artists who was present that day is from New York and explained how her work as an artist involves painting freeing works of art regarding Egypt on New York's landmarks. She's also explained how many people there were happy in the idea of doing so and were impressed with the works of art that had come to life.
It is very freeing for one to be capable of imagining how you could add color to places all the way from home. It's important to add a little color to some places and areas in gloomy days like these, we all need a positivity booster.
The reason why this thoughtful idea was created is because people are growing sick of simply using pen and paper at home with no motive behind them. Some people in Spain for instance have run out of paper to paint on and had used old bed sheets to get creative and draw their work of art.  Now this is what you call art.
"Downtown on Canvas" is the opportunity for people to re-imagine how we could add life to such a sad world that we live in today. This is by far one of the coolest competitions that the Egyptian community has witnessed so far. This also gives the people an opportunity to feel competitive in hopes of winning something these days.
A wide selection of such submissions will be published on Al Ismaelia's social media platforms. As for the winners, there will be three lucky people who will win an all access pass to one of the coolest places in town: Photopia Cairo located in October. The deadline to apply is on April 25th so get started!