How to Prepare for Ramadan: Quarantine Edition
This year, when the calendar struck 2020, the world has taken a bizarre turn. The novel coronavirus had finally shown its true colors and has taken over the entire world. This has left us all in quarantine as well as curfew and laws to abide by. Not just that, but it has left us all in a terrible depressive state.
Almost everything that has anything to do with gathering has been either cancelled or postponed which left us all quite bummed out. In terms of religion, Christians and Muslims are devastated for being incapable of celebrating important events this year.
For instance, Easter has been cancelled in Egypt in fear of large gatherings worsening the situation at hand. Worst part of all, Ramadan and Eid will play out quite differently for us all, which is why, we need to be prepared to get out of this depression we've all found ourselves in by getting ready for a weird yet holy month of Ramadan.
 Put the Needy First
The coronavirus has left Egypt in a bit of a mess, especially for people living in the streets with no shelter or food to let them live by. Which is why, the most important thing to do this Ramadan is to remember them by going through your entire wardrobe and shoe cabinet and get rid of the things you do not need or already have in excessive amount. Keep them in your prayers and remember them on a daily basis by trying to do something good for them. Remember, they are the ones suffering the most in times like these.
Shopping List
First things first! Get your notepad out and start jotting down all the things you'll be needing for Ramadan. Whether it's pasta, rice, and other ingredients to create your perfect oriental ramadany dish, you need to be fully stocked! Also, don't forget the decorations!
Make sure to write down essentials such as toilet paper and any other thing that your family may need. It is crucial for us to keep the needy in mind by gathering up as much items and food that you can to put in order to give out to the poor.
Clean, Clean, Clean!
Before officially starting your Ramadan preparations, it is a must to clean out your entire house from top to bottom. Cleaning is a great way of setting up and preparing your space to allow room for positive energy. Cleaning is some sort of a way to cleanse the energy around your house and allowing the light to come in. This step is very important to having the right Ramadan vibes.
Setting -Up the Vibe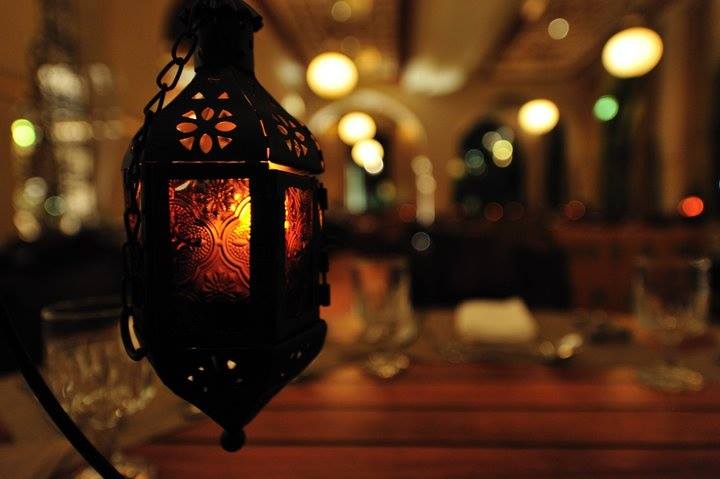 Since we're all in a bit of a rut and are upset with being incapable of having gatherings with friends or family in light of social distancing, we cannot let that stop us from setting up aa Ramadan vibe for our household. If you'd like, change the order of your furniture and allow some newness enter. What's the best part of all is that you get to lay out all the cool Ramadan decorations you've stored from last year. From table clothes, to lantern lamps, it's time to get pumped!
There you have it folks, your ultimate guide to a holy Ramadan. Yes, things will be different this year. But remember, it's all about spreading positive vibes.
Egypt's star Angham to perform in Alexandria on March 24
Egyptian superstar Angham will perform in Hilton Green Plaza hotel in Alexandria on March 24.
Angham will perform live concert at Abdeen Palace on February 25.
In 2021,Angham hand prints were added to wall of fame in Saudi Arabia.
Angham performed at Cairo Opera House on July 1, 2021.
Angham performed live concert at Al-Manara open theater on October 9, 2020.
This was her first live concert with audience since the outbreak of COVID- 19.
Angham performed a huge concert in the Kingdom of Saudi Arabia on the occasion of the celebration of the Saudi National Day, that was held on September 24, 2020.
The star had released her new song "Bahebak Webartahlak" on her official YouTube channel.
The song is written by Saber Kamal and composed by Ihab Abdel Wahed.
United Media Services headed by Tamer Mursi organized a concert for Angham on May 26, 2021 celebrating Eid el Fitr.
The concert was screened on DMC channel at 10 pm. Angham received the Middle East Music Awards (MEMA) for best female singer in 2019.
Additionally, Murex D'or announced Angham the best Arab singer; she received her award at the Murex D'or ceremony that took place on Saturday, April 6, 2019 in Lebanon.
Angham celebrated the release of her album "Hala Khasa Gedan" (A very special case) on March 17, 2019 in one of Alexandria's biggest hotels; this was Angham's first concert after the release of her new album on Feb. 21.
"Hala Khasa Gedan" consists of 14 songs, including "Ya Raitak Fahemni" (I wish you can understand me), "Habayebna" (Our loved ones), "Baol Nasiak" (I say I forgot you), "Metamena" (I am calm), "Leila", and "Hala Khasa."
Angham is an Egyptian singer, record producer and actress. She comes from an artistic family and was born in 1972. Her father is veteran musician and composer Mohamed Ali Soliman. Angham started her artistic career in 1987 under the guidance of her father.
Following her divorce from Magdy Aref in 2000, Angham took much more control over her image and musical style. After that "Leih Sebtaha" (Why Did You Leave Her?) record established her into a strong position amid the constant emerge of new voices in the Middle Eastern music scene.
After a highly publicized feud between Alam El-Phan Music Records' president Mohsen Gaber and the artist, she moved to another record company, Rotana.
In 2005, she released the album "Bahibbik Wahashteeny" (I Love You, I Miss You) which was critically acclaimed, but did not achieve the expected commercial success.
In 2007, Angham returned to the forefront of Arabic pop music scene with her album "Kol ma N'arrab" (Whenever We Come Closer) which sold more than 500,000 copies across the Middle East in less than three months and was awarded a platinum certification.
She presented a group of successful songs such as "Etegah Wahed" (One Direction), "Toul Ma Enta Be'eid" (As Long As You Are Far), "Akteblak Ta3ahod" (I Pledge to You), and "Mahzoma" (Defeated), among other popular songs.
Profits made by Angham's albums during the past two decades remain the highest among other Egyptian singers of her category. It is worth noting that the star's fans and critics in the industry named her "Egypt's No. 1."
Angham was the best-selling female pop artist in 2003. She is famous for her wide vocal range and romantic style.
Angham's album "Rah Tethkerni" (You'll Remember Me) gained great success at the time of its release. Angham cooperated with numerous Arab musicians and poets in the album such as Ahmad al-Sane'e, Khaled al-Awadhi, and Turki Al-Sheikh.
Angham's "Bakhaf Afrah" (I am Afraid of Being Happy) hit about 9 million views on YouTube three weeks after its release. "Bakhaf Afrah" is written by Turki Al-Sheikh and composed by Khaled Ezz.
The ninth edition of Beirut International Awards Festival (BIAF) honored Angham on June 29, 2018. The BIAF, which is held under the auspices of the Lebanese Prime Minister Saad Hariri, honors every year figures from different fields such as art, politics, culture, music, finance and humanitarian services.
In celebration of the New Year … Socialista hosts distinguishable designers at La fête de Noel
Saying goodbye to a very remarkable year in the fashion industry and approaching a new aspiring one, Socialista Events blends the sparkling trendy fashion vibes with the most wonderful time of the year at la fête de Noel, the fashion exhibition held from Dec 18th – 20th at Park St. in Sheikh Zayed in partnership with the Arab African International Bank.
Bringing our beloved designers and celebrities from Egypt and Lebanon to celebrate and define the latest fashion trends of 2021, highlighting the means to master winter season, in the presence of Ayman Fathy, Katia, Diala Makki, Dina Ragheb, Hanady Mehana, Marzouk, Illyas, and Aisha El shabrawy.
The event showcased over 30 prominent Egyptian and Arab exhibitors for ready-to-wear, jewelry and accessories, in addition to home accessories to provide all what you are looking for in the holiday season under one roof. On top of the exhibitors are; the diva Dalida Ayach, le Petit Chato, Dina Shaker, Koukla, Dalia Sabet, El Kasr Jewelry, Noha Abassi, El Baz Jewelry. Besides, Posh Shades, which brings the latest in the world of sunglasses and eyeglasses.
During the event, the Algerian-London based designer, Ilyes Quali held one-of-a-kind Trunk Show that presents contrasting sharp, structured tailoring with dramatic frills & pleats, mastering the art of creating pieces that imbibe the street style essence.
The serial entrepreneur, founder & CEO of Socialista Events, Yasmine Sarwat, highlighted how fashion is a core in the human well-being, how it impacts our mental health and encourages positivity and productivity. She stated, "The way we dress radiates outward to the surroundings, it also moves inward to speak what we feel and even affect our moods". She explained that there is science behind fashion and stressed on the link between psychology and fashion, which puts great responsibility on the industry's players especially during the times of different occasions of the year.
Sarwat added, "We are delighted to be hosting and celebrating the new year with our distinguishable partners of success and we always work to share the joy with our clients and present what they aspire for".
For an unforgettable closing, the mega star Ruby was the main guest at La fête de Noel, who filled the night with her equisetic voice and wished happy beginnings for all the Arabs in the new year.
In a spectacular display of cultural revitalization and preservation, Egypt stunned the world with her Golden Parade. The royal procession rivaled those of  centuries past in extravagance and the awe it left in its wake. The official transference of 22 mummies, 18 pharaohs and four queens from The Egyptian museum in heart of Cairo to the next nucleus of Egyptian history and culture, The National Museum of Egyptian Civilization. This momentous event came to being after a year long preparation in which the efforts of key individuals led to an unparalleled display which captivated millions across the globe. The colossal effort behind the scenes owe its thanks to several companies and individuals.
The phenomenal production by Kokoro Agency heads Production Designer and Art Director Mohamed Attia and partner Shady Ezz, oversaw the process to ensure the visually distinct nature of the Golden Parade. Following the event Mohamed Attia "The happiness and pride of the people come from how we as Egyptians are capable. That we're capable of meeting the international standard, with it being accomplished yesterday before the eyes of every Egyptian and the world." This substantial work stands as an example of Egyptian creativity and attention to detail which Shady Ezz remarked "after a year and a half worth of preparation, I'm delighted with the domestic and international reception". Having successfully captured the grandiosity and awe inspiring spectacle of the Ancient Egyptians Kokoro and everyone involved in the production of the Parade have forged work that has earned the pride of Egyptians everywhere.
The visual journey that was embarked upon by every viewer who witnessed the parade was one guided by the hand of DOP and Director Mazen El Motagawel. Responsible for the vision of the event, his efforts ensured a spectacle that offered viewers a unique glimpse into the past, which he says "will never be repeated in a lifetime". Through intricate rehearsals and preparation, he ensured that every second that was viewed on air deserved to be cemented in the minds and hearts of Egyptians. The parade necessitated a delicate touch and a carefully orchestrated sequence of events, which presented substantial challenges which required an unmatched creativity to ensure such a vision comes to fruition. He stated that "the lighting design was extremely technically demanding regarding how to manage lighting on such a grand scale, especially the coordination between the parade and the visual elements". Mazen El Motagawel's work was complemented by Ahmed El Morsi's remarkable directing and filming the retelling of ancient Egyptian history by prominent Egyptian actors as well as the official anthem by the acclaimed artist Mohamed Mounir. All theses elements came together to mark a new chapter in modern Egyptian history in which it solidifies its identity. One that embraces the legacy of its past and its optimistic path towards achieving its potential.