What Went On During This Year's Earth Hour
You probably heard and witnessed Earth Hour yesterday, and for those who are yet not fully aware of this initiative, let me break it down for you. Earth Hour started back in 2007 as a symbolic lights out event in Sydney, and has now become the world's largest grassroots movement for the environment.
It is organized yearly by World Wide Fund for Nature (WWF), and is now a symbol of everyone's commitment to the Earth, and over the years, the Earth Hour has grown its inception and over 180 countries and territories has participated last year.
"We live in an interconnected world. Every action we take impacts life around us, and increasingly those impacts are harmful. Our ever-growing demand for food, water, and energy is changing the climate faster than predicted—and it comes at a cost for wildlife, wild places, and people everywhere," WWF writes on why Earth Hour matters.
Participants show their support for climate, rivers, wildlife, for forests and oceans, by taking part in the event and switching off the lights for one hour. Each of these issues have been massively affected by the human neglect and evolution, and surely deserved our attention to help rescue what can be saved.
Over the years, landmarks and historic sites like Eiffel Tower, Sydney Opera House, the Empire State Building, and Buckingham Palace have gone dark to mark the hour. And this year has been no exception.
Did you spot the Pyramids?
This year theme for the Earth Hour was #Connect2Earth. The campaign aims at building mass awareness on why its crucial for us to turn our attention to the nature and help create an unstoppable movement, similar to this one.
Let us be clear on one thing, and that is participating in a one-day event doesn't put an end to climate change, or any other environmental crises that we are facing, but it merely grasps our attention to the problem at hand. So what should be done, is a year long plan, of how to help be part of solving this issue. You can start by doing your own research, and find out what can be done on your behalf.
Cairo International Book Fair Postponed In Light of Coronavirus Concerns
The Cairo International Book Fair (CIBF) has been postponed to June next year over coronavirus concerns, the High Committee of the CIBF said following a meeting that was held on Monday, headed by Egypt's Minister of Culture Ines Abdel-Dayem.
The book fair was supposed to take place early next year in January and February, giving the chance to several Egyptian, Arab and even international vendors to exhibit their books. The book fair is seen as one of the Middle East's largest annual cultural event.
According to the statement released by the committee, the new date for the 52nd CIBF is expected to be between 30 June to 15 July.
"The committee discussed the latest developments concerning the coronavirus pandemic globally, and its impact on book fairs worldwide, which led to the cancellation or postponement of international exhibitions," the statement noted.
This decision also comes to support those who will be participating in the fair from foreign countries, in an attempt for them to be able to fly to Egypt.
Due to the same reason, the committee said that it has agreed with Greece that it will delay its participation in the exhibition as a guest of honor to the next year.
Opera Book Fair Launches Today For the First Time
To all the book worms out there who wait around every year for the Book Fair to satisfy their obsession, we're happy to tell you that this year the Ministry of Culture is launching the very first Opera Book Fair and it kicks off today!
Egypt's Minister of culture Inas Abdel Dayem announced the launch of the Opera Book Fair for the first time, and it is set to be held in El-Hanager Art Center.
The Book Fair is organized by the General Egyptian Book Organization in cooperation with a number of sectors of the ministry. The opening will be held today at 6:00 PM in the external Opera Square.
You can still catch the book fair until November 28 with the participation of 32 publishing houses in addition to the various sectors of the Egyptian Ministry of Culture, including the General Egyptian Book Organization, the General Authority for Cultural Palaces, the National Library and Archives, in addition to the participation of Dar Al Maarif.
The Minister explained that the Book Fair comes in light of the ministry's framework of enriching the system of cultural service and supporting the publishing movement and book industry in Egypt.
Visiting hours start at 10 AM until 8 PM.
The Halloween Parties & Events to Catch This Weekend!
Spooky season is upon us! Halloween is this weekend and in case you're too busy choosing your scary costume, we'll help you pick where to celebrate this year!
Put your masks on and get ready to celebrate the freaky holiday the right way!
Halloween Carnival @MallofEgypt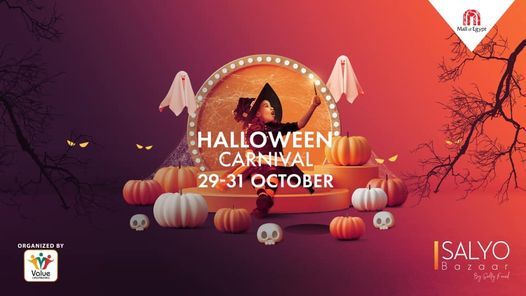 Catch the Halloween carnival at the Plaza in Mall of Egypt on October 29th to the 31st, from 10 AM to 11 PM. Put your best costume on because there will be free photos taken of you!
Halloween Party @BlueNile Boat
Enjoy a thrilling night by the Nile on October 31st with DJ Rami Raoud at Blue Nile.
Halloween Event @ZedPark
Have some thrilling fun at Zed Park as ghosts and ghouls are about to take over the place! Put your costume and bring your friends for some freaky fun.
Halloween Party @CairoJazzclub
Don't miss out the Halloween party at Cairo Jazz Club happening this weekend on Friday! Costumes are mandatory so look your scariest!
Party @Sass
Party this Halloween at Sass next Friday, the 30th of October. For Reservations: 01201001079 – 01200019979