Inspirational Egyptian Women Excelling in Diverse Fields
It's International women's day, a day where every woman should be celebrated, the housewife, the entrepreneur, the wife and the mother. A day where we are reminded of the rights that we fought for, and gained it, but are also reminded of the goals, that are yet to be achieved.
Egyptian women have been proving they are capable since the very old ages, since the times they ruled and the times they stood beside men in revolutions and fought for the country's rights. Now, it's true that we might struggle a bit to prove our equality to men and our strength to dominate, but lately we have found no trouble in proving ourselves over and over again.
So in light of this day, we're shedding the light on some of our own extraordinary women, who in their own way, helped defy stereotypes and break through that glass ceiling effect. Up until there was no barrier left, standing between them and their dreams.
In Arts:-
Azza Fahmy has succeeded in creating artful jewelry that speaks of our heritage, she was able, through her brand, to make people who've never set a foot in Egypt to see the country through her collections. She is a remarkable, artistic lady, who was able to create a brand name that is larger than life.
The two sisters Aya & Mounaz Abdel Raouf, founders of Okhtein, were able to create -at a very young age- a name for themselves through the launching of exceptional bags, that are worn by international celebrities.
They just recently made it to the Forbes 30 under 30 list, for being such a young inspiration. Each and every piece of their collection lines, have so many details engraved in them; the thing that makes them a must have.
Entrepreneurship:-
Hadia Ghaleb, a fashion icon and founder of Ghaleb Production House. The young entrepreneur was able to build an empire of her own, in a short time. She is always between flights, catching up on meetings, fashion shows and business inquiries. She is a true inspiration, for she has turned her passion into her business, and combined her studies with her love for fashion and founded GPH.
She is a boss, she is a leader, she is quite the example for a successful young woman. Who can reach her dreams, if she just worked hard for it, and surrounded herself with people who push her forward.
Sports:-
The young athlete has been making us proud with her being the current World Champion in Women's squash, who took the World Squash Championship title for the third time this year. She was already making headlines after being crowned champion of the 2019 J.P. Morgan Tournament of Champions, that was held in New York City last January.
She also just recently made it to Forbes list of 30 under 30, she is yet another inspiration for young women who aspire to excel in their hobbies, maybe even turn it to their career. For those women, nothing and no one should ever stop you.
Humanitarian aid:-
This incredible young woman is helping fight hunger and reduce food waste; through her application Tekeya. The mobile app creates an online platform that facilitates the process of distributing surplus food from providers and making it easily accessible to consumers.
"Egypt is one of the biggest food wasters in the world, representing 73kg of food wasted per person every year. Not only does the waste of food create a burden on the environment through CO2 emissions, but equally it leaves providers with excess food, a loss of potential income and consumers without meals they could afford," explained Shahin in a press release from the UAE where she is a current resident there.
The application will also contribute in providing charitable organizations with food donations at no cost.
Politics:-
Egypt's Minister of Tourism, an outstanding political figure. Ever since her appointment, she is been setting a real prestigious example of Egypt and has been giving us utter pride. One of her recent events, the Pyramids Marathon, was of a remarkable success. She has a PhD in Economics from University of Maryland at College Park, 2001 and graduated from the AUC class of 1995 with a B.A. in Economics.
Now that was just a glimpse of the power and dominance of Egyptian women, and the kind of influence that they can obtain in many and diverse fields. May they inspire others to break free from whatever it is, that hold them back. May they push others into becoming their true amazing selves. Here's to every strong woman,
"May we know them. May we be them. May we raise them."
Happy International Women day.
Emmys Awards 2020: Top Highlights From the Ceremony
Emmys Awards 2020 went virtual this year amid the ongoing coronavirus scare, but the ceremony was a whole lot more successful than expected.
"The Emmys themselves are not eligible to actually win an Emmy, but the Herculean task of pulling this off the way they have would deserve one," said Deadline's Pete Hammond.
The event saw many highlights that left us all entertained and surprised at times!
1. The Somewhat Friends Reunion
Cairo International Festival for Experimental Theatre Will Launch Virtually In September
Egypt's Ministry of Culture is launching its 27th edition of the Cairo International Festival for Experimental Theatre (CIFET) online this September.
Organized by the Ministry of Culture, the festival's new management decided to hold this year's edition online for the very first time, in light of the current situation caused by the pandemic.
The move was taken to ensure the health and safety of the participants and visitors. 
Last year, the festival witnessed participation from 40 countries, with around 22 productions presented during the festival. The 2019 edition took place at various theatres in the Egyptian capital, Cairo.
The main competition saw performances from around the world, including the US, Brazil, Switzerland, Kosovo, Portugal, Hungary, Morocco, Kuwait, Tunisia, Iraq, Syria, South Africa, Nigeria, and Congo.
The festival will be headed by Alaa Abdel Aziz Suleiman, a young theatre maker who adds so much to the edition from noticeable changes and adjustments.
According to Suleiman, the deadline for application forms from the teams wishing to participate in the festival is on August 10th. The festival administration confirmed that the ongoing pandemic has posed challenges for theatrical practices, whether on the production side or in presenting the works themselves.
This US Museum Inaugurated an Exhibition Dedicated to Egypt's Sunken Treasures
Virginia Museum of Fine Arts is now hosting the Egyptian exhibition, Sunken Cities: The Enchanting World of Egypt, which was inaugurated on July 3rd.
The exhibition sees different historical periods and is also showcasing 293 artifacts that were recovered from the cities Heracleion and Canopus in the eastern port of Alexandria and the port of Abu Qir.
It also houses two large statues of Isis and Serapis in addition to statues of a Sphinx and some ornaments and household items.
"When people come to this exhibition, they're going to see amazing works of art that reveal the diversity of the ancient world and the ways that the civilizations of Egypt, Greece and Rome interacted and influenced each other more than 2,000 years ago," said Peter Schertz, curator of the exhibit.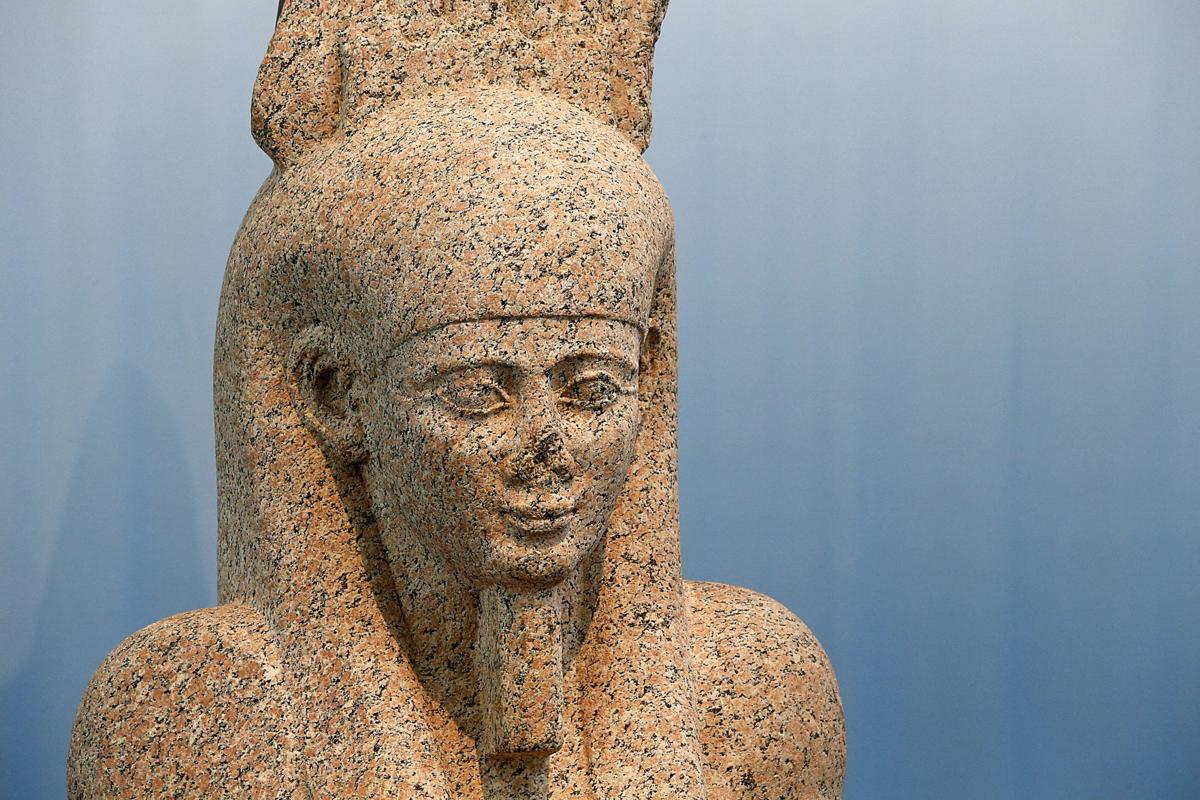 "The Virginia Museum of Fine Arts presents Treasures of Ancient Egypt: Sunken Cities. The exhibition is a once-in-a-lifetime chance to see treasures recovered from two powerful ancient Egyptian cities that sank into the Mediterranean more than a thousand years ago." The official website of the museum wrote about the exhibition.
"This exhibition features a staggering array of objects from these excavations, supplemented by treasures from museums across Egypt. The objects on view piece together the economic and cultural significance of these destroyed city centers and showcase the artistry, religious practices, and traditions of their people." It added.
Treasures of Ancient Egypt: Sunken Cities is organized by the European Institute for Underwater Archaeology with the generous support of the Hilti Foundation and in collaboration with the Ministry of Antiquities of the Arab Republic of Egypt.