I Scream, You Scream, We All Scream for Ice Cream
For all you sweet tooth's out there, we know how much you crave desserts and delicious things. Rather than your typical cake or maybe even Cinnabon, what kind of person would you be if you forget ice cream for dessert?
Ice cream is super delicious and the process of choosing your ideal tasty flavor is our favorite part! From Chocolate Mint to Strawberry Sorbets, you name it! Here are the top places you should definitely go to if you're a major fan of ice cream!
Dara's Ice Cream
Unlike your ordinary ice cream parlors, Dara's ice cream stands out altogether. The thing is, you can't see the flavors in front of you in the freezer which does tend to leave people quite skeptical about that but after trying your first ice cream cone there, your worries will be flushed down the toilet. Due to their extreme care towards hygiene and health, they don't leave their ice cream sitting out, especially with all the health hazards going on nowadays. What makes them quite unique is their ice cream flavors, they have things like white Coffee of Honeycomb. Even their cones are made out of chocolate waffles, what more could you want? Check out their branches in Zamalik and Galleria. They've also recently opened up a new branch in the Fifth settlement and believe it or not, people wait in long lines are formed right in front of the store first thing in the morning because people are craving their goodies!
Mandarine Koueider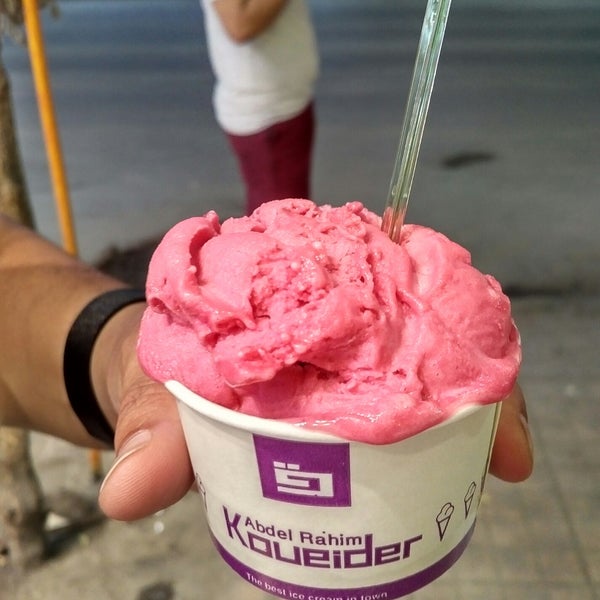 You might be confused as to why Koueider is added to the list since its one of Egypt's oldest and most delicious ice cream parlors in town. Well, there is no doubt though that Koueider is still loved by many people because of the various chains that are located all over Egypt. They sell your classic tasty flavors but what's quite unique is that they really are the most delicious ice cream scoops one could have! Another important thing about them is that their prices are extremely cheap and their proportions are huge! Their top delicious flavor is Lemon, you should definitely try it out in the summer time!
Stavolta
Stevalto isn't your typical ice cream parlor for many reasons. The first being that they serve Italian Gelato rather than your ordinary American style ice cream scoops and flavors. Their top flavors are definitely lemon, Hibiscus, Black Forest, and even Salted Caramel. You definitely won't be able to find these flavors anywhere! Which is why they're currently expanding and are hoping to open new branches in Zamalik and the Fifth Settlement. Currently, two branches are available in both Maadi and Sheikh Zayed city!
Gelato Mio
Yes Gelato Mio is another Italian based gelato parlor, but they truly know how to stand out. Gelato Mio is currently on the top of your best ice cream list because of their authenticity as well as their remarkable flavors. They grow fresh fruits on a daily basis to be capable of giving their customers a true Italian experience! Apple Strudel is considered their best flavor as well as Sorbet. Not just that, they also make their very own gelato cakes and gelato macaroons! Delicious!
Gelato on Wheelz
Saving the best for last, we bring to you Egypt's very first ice cream truck! We all used to watch cartoons and old movies that show cute ice cream trucks driving around the neighborhood selling yummies ice cream scoops to children. Which is why incorporating such a fantastic idea in Egypt was a great plan to get people wanting for more! They work around specific areas such as rehab city and even Madinty. Lucky them! We can't wait till they start expanding and then we could old get our ice cream the old fashioned way!
And there you have it folks! Ice cream is the best way to change your mood which is why we brought you the full scoop on Egypt's best ice cream parlors. Get it?
Egypt Will Build the World's Largest Spinning Factory
The Holding Company for Cotton, Spinning, Weaving and Garments has signed a deal to build the largest spinning factory in the world right here in Egypt, at Misr Spinning and Weaving Company in El-Mahalla El-Kubra.
A statement by Ministry of Public Business Sector announced on Thursday. This comes in light of the Ministry's plan to implement a comprehensive development plan for cotton and weaving industries.
The statement also indicated that the factory will be established on an area of ​​about 62,500 square meters, with the ability to accommodate more than 182 thousand spinners, with an average production capacity of 30 tons/day.
The construction work will begin soon and shall take around 14 months, with an estimate cost of around LE 780 million.
The contract was signed by Chairman of the Board of Directors of the Holding Company for Spinning and Weaving, Ahmed Mustafa, and Vice Chairman of the Board of Gamma Construction Ayman Saad.
"The plan to develop cotton and spinning and weaving companies takes about two and a half years at a cost that exceeds LE 21 billion, and includes a complete modernization in construction and machinery – which was contracted to supply from major international companies – and a comprehensive development in management, marketing and training systems," the ministry added.
The aim of this ambitious plan is to turn 10 companies into strong entities, in order to double their current production capacity by 3 times. This way, these entities will be able to compete on a higher level.
A Smart System to Be Installed in All of Egypt's Roads
Egypt will install a smart system on roads nationwide to monitor any violations and the traffic!
In a meeting with transport officials that was held yesterday, Egypt's transport minister Kamel El-Wazir discussed implementing a smart system for roads nationwide.
This comes in light of the government's plan that aims at improving road safety.
The project's first phase includes six highways: the Cairo-Suez road, Cairo-Ismailia-Port Said road, the Regional Ring Road, Katameya-Ain Sokhna road, Shubra-Benha freeway and Cairo-Alexandria desert road, the ministry said.
In the second phase of the project, the new system will have covered around 20 of Egypt's main roads.
"All roads joining the smart system will be monitored by a network of cameras that monitors traffic 24/7… and registers any violations," the minister said.
In applying this new system, the driver's behavior will be monitored thus improving road safety and reducing traffic accidents caused by reckless drivers.
New Gas Discovery Made in Egypt's Nile Delta
Italian oil company Eni has announced about a new gas discovery off the coast of the Egyptian Nile Delta, in a statement released on Wednesday.
The Italian oil and gas company Eni said that it succeeded in drilling the first exploration well in Egypt's Nile Delta waters, this comes in cooperation with contractor members of BP and Total.
The new discovery, which is at the Bashrush prospect, is located at a depth of 22 metres, and is 11 km from the coast.
According to the company, which holds 37.5 percent interest of the North El Hammad concession, there's a possibility of discovering a gas column with a thickness of 152 meters within the Messinian age sandstones of the Abu Madi formation with "excellent petrophysical properties."
"The discovery of Bashrush is further demonstration of the effectiveness of Eni's 'incremental' exploration strategy, aimed at selecting high value opportunities and ensuring fast development of the new discoveries through existing infrastructures," the company said in a statement.
The three firms will wok together with Egypt's petroleum authorities in order to start looking into the development options for the new discovery, with the aim of "fast tracking" production, the statement said.