I Scream, You Scream, We All Scream for Ice Cream
For all you sweet tooth's out there, we know how much you crave desserts and delicious things. Rather than your typical cake or maybe even Cinnabon, what kind of person would you be if you forget ice cream for dessert?
Ice cream is super delicious and the process of choosing your ideal tasty flavor is our favorite part! From Chocolate Mint to Strawberry Sorbets, you name it! Here are the top places you should definitely go to if you're a major fan of ice cream!
Dara's Ice Cream
Unlike your ordinary ice cream parlors, Dara's ice cream stands out altogether. The thing is, you can't see the flavors in front of you in the freezer which does tend to leave people quite skeptical about that but after trying your first ice cream cone there, your worries will be flushed down the toilet. Due to their extreme care towards hygiene and health, they don't leave their ice cream sitting out, especially with all the health hazards going on nowadays. What makes them quite unique is their ice cream flavors, they have things like white Coffee of Honeycomb. Even their cones are made out of chocolate waffles, what more could you want? Check out their branches in Zamalik and Galleria. They've also recently opened up a new branch in the Fifth settlement and believe it or not, people wait in long lines are formed right in front of the store first thing in the morning because people are craving their goodies!
Mandarine Koueider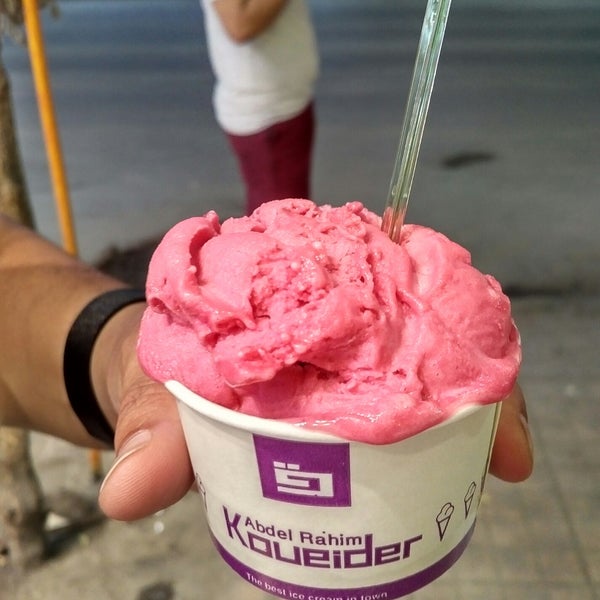 You might be confused as to why Koueider is added to the list since its one of Egypt's oldest and most delicious ice cream parlors in town. Well, there is no doubt though that Koueider is still loved by many people because of the various chains that are located all over Egypt. They sell your classic tasty flavors but what's quite unique is that they really are the most delicious ice cream scoops one could have! Another important thing about them is that their prices are extremely cheap and their proportions are huge! Their top delicious flavor is Lemon, you should definitely try it out in the summer time!
Stavolta
Stevalto isn't your typical ice cream parlor for many reasons. The first being that they serve Italian Gelato rather than your ordinary American style ice cream scoops and flavors. Their top flavors are definitely lemon, Hibiscus, Black Forest, and even Salted Caramel. You definitely won't be able to find these flavors anywhere! Which is why they're currently expanding and are hoping to open new branches in Zamalik and the Fifth Settlement. Currently, two branches are available in both Maadi and Sheikh Zayed city!
Gelato Mio
Yes Gelato Mio is another Italian based gelato parlor, but they truly know how to stand out. Gelato Mio is currently on the top of your best ice cream list because of their authenticity as well as their remarkable flavors. They grow fresh fruits on a daily basis to be capable of giving their customers a true Italian experience! Apple Strudel is considered their best flavor as well as Sorbet. Not just that, they also make their very own gelato cakes and gelato macaroons! Delicious!
Gelato on Wheelz
Saving the best for last, we bring to you Egypt's very first ice cream truck! We all used to watch cartoons and old movies that show cute ice cream trucks driving around the neighborhood selling yummies ice cream scoops to children. Which is why incorporating such a fantastic idea in Egypt was a great plan to get people wanting for more! They work around specific areas such as rehab city and even Madinty. Lucky them! We can't wait till they start expanding and then we could old get our ice cream the old fashioned way!
And there you have it folks! Ice cream is the best way to change your mood which is why we brought you the full scoop on Egypt's best ice cream parlors. Get it?
Sax player Rahma Hassan, Wael Jassar and Mustafa Kamel perform a concert at the Aspero Restaurant Complex
In a family meeting on the banks of the Nile, businessman Gerges Espero opened his new restaurant on the promenade of the people of Egypt under the name Espero Restobar. The Eventadora Company supervised and organized the party, which was revived by the artist Wael Jassar and the artist Mustafa Kamel, captain of the musical professions and sax player Rahma Hassan, and DJ Khaled Hussein in
The opening of the Aspero restaurant complex in the Ahl Masr walkway on the Nile Corniche, in the presence of a group of stars of art and high society.
Egypt mitigates, adapts to effects of climate change via 324 bn national projects: Minister
CAIRO – 8 June 2022: Egypt has success story to share with the world during its presidency of the upcoming COP27 climate conference, stated Egyptian Minister of Environment, Dr. Yasmine Fouad.
She referred to Egypt's national projects in the fields of mitigation and adaptation with climate change, saying that the cost of mitigation programs in Egypt reaches 211 billion dollars, and the cost of adaptation programs is about 113 billion dollars, with a total of 324 billion dollar.
Minister Yasmine Fouad further explained that the list of mitigation projects includes the establishment of the Benban Solar Energy Complex; the largest complex for generating clean electricity in the Middle East, in addition to energy efficiency projects, wind energy projects, and sustainable transportation such as the Monorail project and the expanded metro network.
She also highlighted other projects aiming to convert waste into energy, and helps in integrated waste management, such as biogas projects, sanitary landfills and recycling plants.
"As for the adaptation projects, they include water rationalization, canal lining projects, sea water desalination, sewage plants, and Haya Karima initiative as an integrated model for mitigation and adaptation projects to the effects of climate change," she added.
This also includes the implementation of natural gas delivery projects, waste management, lining canals projects and Sewage treatment plants and afforestation.
Allianz Egypt launches the first round of Allianz Athlete Experience for Egyptian Tennis Enthusiasts to support Mayar Sherif
Cairo – May 2022: Being the exclusive official insurance sponsor of tennis champion, Mayar Sherif, the first Egyptian female tennis player to feature in the main draw of a Grand Slam tournament, Allianz Egypt launches the first round of one-of-a-kind initiative "Allianz Athlete Experience" for Egyptian tennis enthusiasts. The winners will enjoy an exclusive experience with Allianz Egypt brand ambassador and Tennis superstar Mayar in one of the sport's most important tournaments at Roland Garros in Paris this May.
At a special ceremony held at Allianz Egypt Headquarters, Allianz Egypt announced the winners in the presence of Allianz Egypt Chairman and Board of Management, the President of the Egyptian Tennis Federation, and the winners of the competition, in addition to Allianz Egypt sports partners and ambassadors from the Olympic and Paralympic Champions.
"Over the years, Allianz Egypt, being the official insurance partner of the Olympics and Paralympics Movement, has ventured to be a strong contributor to the local sports ecosystem through supporting, encouraging and empowering national athletes and champions," Ayman Hegazy, Chairman and CEO of Allianz Companies in Egypt, said.
Hegazy added, "We are extremely proud of our Golden girl and our Brand Ambassador Mayar Sherif for being the first Egyptian Female at Roland Garros. And we are diligent to continue providing all possible support and empowerment to her and all our champions."

"I am honored to have Allianz Egypt – one of the distinguished sports promoters in the world- supporting me throughout my journey in raising Egypt's name in major championships worldwide. This competition truly reflects the immense support and motivation I have been receiving from Allianz since day one and from my distinguished and strong Egyptian fan base that I sincerely and proudly consider a success." Mayar Sherif said commenting on the initiative.
It is worth noting that Allianz Egypt intends to repeat this initiative for its ambassadors in different sports. This comes as a continuation of the company's efforts to support the Egyptian sports ecosystem, with a special focus on tennis.
###
About Allianz Egypt:
Allianz is a Multinational German insurer operating since 1890. Allianz in Egypt was founded in 1976, under the name of "Arab International Insurance Company". It was fully acquired in 2004 by Allianz under its current brand names; "Allianz Life Assurance Company – Egypt" and "Allianz Insurance Company – Egypt", providing comprehensive and integrated insurance services, such as life insurance, medical insurance, property insurance to business partners and individuals. The company has 14 branches and has accomplished strategic partnerships with major banks operating in Egypt.