Highlights of the Spectacular Dior's 2020 Cruise at Marrakesh
The Moroccan City Marrakesh seems to be on many's bucket list as it makes an ideal destination for its historical buildings, colorful souks, and local fashion.
The city even attracted the luxury house Christian Dior as well, who staged its Cruise 2020 show with the city's astounding El Badi Palace as the background.
Yves Saint Laurent, the Maison's former Creative Director, was fascinated with Morocco and thought of it as his second home. So choosing the North African country doesn't come as a surprise; because of Dior's long history with the continent.
El Badi Palace dates back to the 16th century, with its pool and gardens, it certainly made a fascinating backdrop for the Dior show, and as if the palace wasn't magnificent enough, the outdoor runway was decorated with dozens candles.
On their official Instagram account, the brand explained that Maria Grazia Chiuri chose Marrakesh because "the city across centuries has drawn a stream of influential travelers, artists and creatives, from former Dior Creative Director Yves Saint Laurent to novelist and philosopher Albert Camus, photographers Cecil Beaton and Irving Penn, and more."
The brand was eager to celebrate the merging between the Mediterranean, European and African culture; and so it worked along local artisans, Uniwax and other designers including Grace Wales Bonner and Mickalene Thomas. 
The two-day event started with a dinner along a traditional music performance at the Palais Bahia.
Jessical Alba, who is a Dior ambassador was present during the event and also got to celebrate her 38th birthday during those two-day extravaganza.
"All the people and places I've been able to connect with and experience through my 38 years! #heartisfull! thank you @dior team @staceykubasak for inviting me to this magical place," she wrote on her Instagram, along with pictures of her trip.
For an even greater finale, Diana Ross threw a surprise performance of Ain't No Mountain High Enough, for yet another grand closure.
Now, here is a glimpse of what went on during the show, and the tremendous effort that can be seen in the designs!
The 2020 show's theme was 'Common Ground' and is inspired by West African fabrics. Grazia Chiuri teamed up with artists and artisans from several and various parts of Africa.
#StandWithCreatives Goes Viral To Support Artists Affected By the Pandemic
The hashtag #StandWithCreatives has been going viral among celebrities, public figures and creatives, it is one for a good cause that aims at supporting artists and creatives whom businesses have been affected by the pandemic.
The campaign launched by Fashion Trust Arabia, was intended to shed the light on creatives but what happened instead is that a supportive community resulted from the campaign.
Designers, artists, creators have all gathered their voices together and used their influential platforms, to highlight their creative fellow colleagues and raise awareness on the cause.
With the devastating impact that COVID-19 has imposed on the fashion scene, it has affected the lives of many, but Fashion Trust is hopeful that 'all artists will rise to the occasion and lead the way through supporting communities and bringing the beauty of our region to life through creativity.'
The campaign will help give the exposure and recognition that aspiring creatives deserve. "By joining the campaign, you would be enabling one of the most essential aspects of life: creativity."
How to take part? Well, if you have an influencing platform, you can use it to help spread the message, head over to Fashion Trust Arabia website now to follow the lead of many others.
If you are a designer based in the MENA region and your business has been impacted by COVID-19, the #StandWithCreatives Fund will soon be available. So stay tuned for the announcement regarding applications and eligibility details.
Here are some of the celebrities and influencers who have taken part in the campaign.
Ralph Lauren Donates $10 Million for Coronavirus Cases
Throughout the beginning of the Coronavirus, many industries had suffered greatly. For instance, the Tourism industry had suffered tremendously due to the halting of flights.
Another industry that has faced severe loss is the Fashion Industry due to staff layoffs, production halt, and closed stores. Many people have stopped purchasing clothes altogether because of the tight budget they have set from themselves.
Which is why, in critical times like these, people are trying to give as much as they can and offer extensive resources to help out the people that are in deep need as well as employees.
Believe it or not, Ralph Lauren has pitched in by donating $10 million for COVID-19 relief. It was a very noble move for him to be donating such a large amount to help out his people. So far, this donation has been the largest among American Fashion brands.
Other fashion leaders have been contributing in other ways such as creating masks, hand sanitizers, and much more. For instance, Egyptian local fashion king Kojak has created his own line of masks to donate to Al Abassiya hospital.
Other known brands such as Prada, Brandon Maxwell,Estee Lauder, and much more have joined together to help find contributions for this pandemic outbreak which is very kind and genuine of them to be doing so.
The donations that have been made by Ralph will go to the World Health Organization's Solidarity Response fund. In return, WHO will be offering financial aid to the Ralph Lauren Employees due to the rough circumstances if their situation.
Another contribution will go to the company's very own fund, Pink Pony, a cancer fund to support cancer institutions whom are extremely vulnerable at this time of the pandemic.
Aside from that, Ralph Lauren is also currently working on assessing the technical requirements for isolation gowns and medical masks to help protect being transmitted with the COVID-19, in hopes of supporting people globally.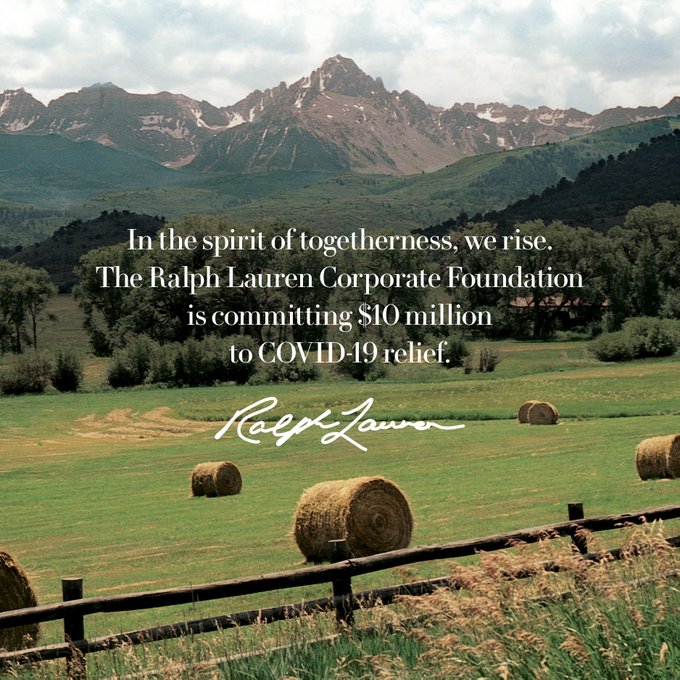 "At the heart of our company, there has always been a spirit of togetherness that inspires our creativity, our confidence and most importantly our support for one another. In the past weeks and months, that spirit has never wavered," Lauren said in a statement. "We believe that no matter who you are or where you are from, we are all connected. That is why we are taking significant action to help our teams and communities through this crisis."
5 Online Fashion Courses Available For Free
Ever wanted to explore your potential even more and expand your area of expertise? Well, now is the perfect chance for any of us who want to discover their talents by learning something new and developing our skills.
Take this quarantine as an opportunity for you to learn the basics of fashion design and let's be honest, we all wanted to become fashion designers at some point in our lives so why not start now?
Start today actually by enrolling in one of the following online courses that will teach you the basics of fashion designing, completely for free!
Fashion as a design
Fashion as Design focuses on a selection of more than 70 garments and accessories from around the world, ranging from kente cloth to jeans to 3D-printed dresses. This course will give you a closer look on what you wear, why you wear and how it's made, you will get to listen to a number of designers, makers, historians, and others working in the field of fashion.
Enrollment is for free and the course starts today, click here for more details.
Sustainable Fashion
For those of you taking fashion quite seriously and not just as a hobby, this course can benefit your business very much. By the end of it, you will have a clear vision on the overall challenges and potential solutions for businesses to become more sustainable. You will learn how to implement business models and what tools companies use to measure and report about sustainability.
Enrollment is for free and the course also starts today, click here for more details.
Management of Fashion and Luxury Companies
Another great course for business owners or aspiring fashion designers! In this course, you are adopting a case-study approach, the course presents strategic brand management in luxury and fashion companies as a balancing act: tradition vs. innovation, expertise vs. experimentation, casual vs. stylish.
Click here to sign up!
Fashion Design
This is course is available in Arabic by the platform 'Edraak.' This course will help develop your abilities and skills to get you ready to enter the world of fashion design, in addition to stimulating your creativity so that you master designing the mood board and the design of clothes.
For more details, click here.
Zoe Hong
Now this isn't really a course to enroll in but a YouTube channel that has everything a beginner or a professional needs to know about fashion designing. New tutorials are available every Sunday on all kinds of fashion and general illustration techniques including figure drawing, fashion design process, color theory, and apparel tech design/product development both online and in schools.