Egypt Launches New Initiative to Explore the Ancient Land
Have you guys ever found deep interest in the ancient land of Kemet that is known as Egypt today? Growing up, some of you might have had vivid dreams of becoming an archaeologist some day.
Egypt specifically is one of the hottest spots for archaeology till this very day. It is no new news that we keep finding ancient artifacts, mummies, and tombs to learn more about. You might think that your dream of becoming an archaeologist might be over due to the coronavirus pandemic, but needless to worry, because we have some amazing news for you history lovers!
Fortunate for us, the Ministry of Tourism and Antiquities has decided to commence launching tours for the country's most intricate and historical archaeological land sites as well as museums to allow visitors to view and enjoy the ancient heritage all the way from home! Isn't that cool?
The tours will be guided by the most professional tour guides as well as archaeologists in town which shows that the experience will be an amazing one, indeed. For those of you who are interested, you'll find more details as well as these guided tours on the Ministry's website and various social media platforms.
The slogan to this newfound initiative is "Experience Egypt from Home. Stay home. Stay safe."  This is all a part of the Ministry's genuine efforts to allow people to explore and visit the ancient Egyptian civilization all the way from home in these rough times.
Since the beginning of the Coronavirus outbreak, Egyptian's tourism levels have decreased tremendously which is why this is a hopeful method of trying to gain back our tourists as well as locals. Believe it or not, Egypt is one of the first countries to think of such an interesting idea to start things up again.
The first tour that will be granted to you is a deep look inside the Menna Tomb in Theban Necropolis, one of Egypt's oldest lands. This is in cooperation with the ARCE, the American Research Center in Cairo.
We hope you all find this initiative quite exciting and intriguing, don't forget to visit the website for more information on your virtual tour! Stay safe, folks!
Cairo International Festival for Experimental Theatre Will Launch Virtually In September
Egypt's Ministry of Culture is launching its 27th edition of the Cairo International Festival for Experimental Theatre (CIFET) online this September.
Organized by the Ministry of Culture, the festival's new management decided to hold this year's edition online for the very first time, in light of the current situation caused by the pandemic.
The move was taken to ensure the health and safety of the participants and visitors. 
Last year, the festival witnessed participation from 40 countries, with around 22 productions presented during the festival. The 2019 edition took place at various theatres in the Egyptian capital, Cairo.
The main competition saw performances from around the world, including the US, Brazil, Switzerland, Kosovo, Portugal, Hungary, Morocco, Kuwait, Tunisia, Iraq, Syria, South Africa, Nigeria, and Congo.
The festival will be headed by Alaa Abdel Aziz Suleiman, a young theatre maker who adds so much to the edition from noticeable changes and adjustments.
According to Suleiman, the deadline for application forms from the teams wishing to participate in the festival is on August 10th. The festival administration confirmed that the ongoing pandemic has posed challenges for theatrical practices, whether on the production side or in presenting the works themselves.
This US Museum Inaugurated an Exhibition Dedicated to Egypt's Sunken Treasures
Virginia Museum of Fine Arts is now hosting the Egyptian exhibition, Sunken Cities: The Enchanting World of Egypt, which was inaugurated on July 3rd.
The exhibition sees different historical periods and is also showcasing 293 artifacts that were recovered from the cities Heracleion and Canopus in the eastern port of Alexandria and the port of Abu Qir.
It also houses two large statues of Isis and Serapis in addition to statues of a Sphinx and some ornaments and household items.
"When people come to this exhibition, they're going to see amazing works of art that reveal the diversity of the ancient world and the ways that the civilizations of Egypt, Greece and Rome interacted and influenced each other more than 2,000 years ago," said Peter Schertz, curator of the exhibit.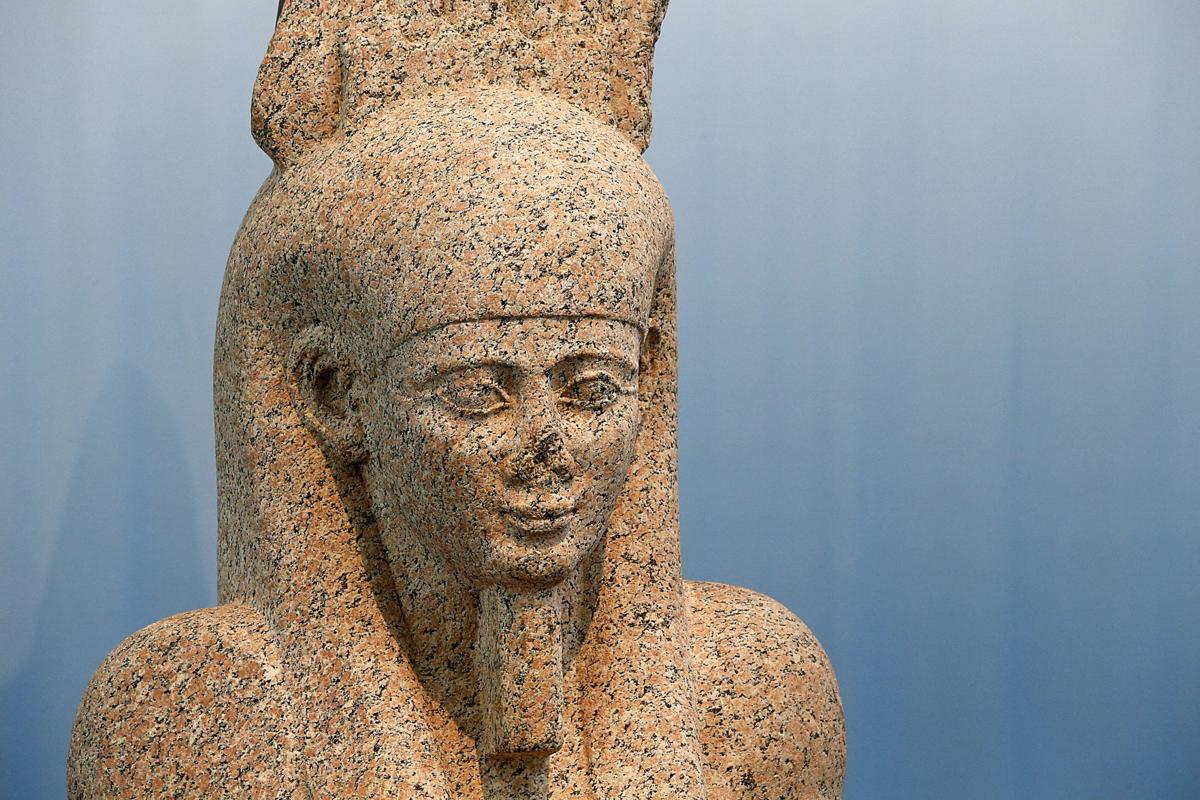 "The Virginia Museum of Fine Arts presents Treasures of Ancient Egypt: Sunken Cities. The exhibition is a once-in-a-lifetime chance to see treasures recovered from two powerful ancient Egyptian cities that sank into the Mediterranean more than a thousand years ago." The official website of the museum wrote about the exhibition.
"This exhibition features a staggering array of objects from these excavations, supplemented by treasures from museums across Egypt. The objects on view piece together the economic and cultural significance of these destroyed city centers and showcase the artistry, religious practices, and traditions of their people." It added.
Treasures of Ancient Egypt: Sunken Cities is organized by the European Institute for Underwater Archaeology with the generous support of the Hilti Foundation and in collaboration with the Ministry of Antiquities of the Arab Republic of Egypt.
Dear Class of 2020: Heartfelt Speeches From A-Listers to Future Change-makers
Due to the current situation caused by the pandemic, graduation ceremonies have been taking place virtually and in order to support those students who have been denied the fun part of their final year, celebrities and public figures have given them inspiring virtual commencement speeches during live streams instead.
The latest event, YouTube Originals "Dear Class of 2020," featured appearances from Barack and Michelle Obama, Taylor Swift, Jennifer Lopez, Zendaya, Yara Shahidi, Billy Porter, Kerry Washington, Lizzo, Lady Gaga, and Katy Perry.
They all joined together yesterday to celebrate the next generation and speak on some of the unfortunate events that have recently taken place.
The event was a partnership between the Reach Higher initiative, which Michelle Obama started at the White House, and YouTube.
The four-hour graduation ceremony was supposed to take place on June 6, but was postponed to honor George Floyd's memorial service, and thus took place yesterday instead and here are some of its highlights…
The queen Beyoncé delivered a beautiful speech during the broadcast. She spoke on her fears when she started her own company and how she managed to trust herself.
She also discussed the current global crisis and her thoughts on the Black Lives Matter protests that are taking place all over the world.
"Thank you President Obama and Mrs. Obama for including me in this very special day. And congratulations to the Class of 2020. You have arrived in the middle of a global crisis, a racial pandemic, and worldwide expression of outrage at the senseless killing of yet another unarmed Black human being. And you still made it. Thank you. We're so proud of you, for using your collective voice and letting the world know that Black Lives Matter." She said.
Alicia Keys praised the younger generation for "inspiring the world to see our collective humanity" through protests, calling on everyone to "empathize with those who seem different on the surface."
Meanwhile, Barack and Michelle Obama congratulated students for their 'long journey.'
"Today is the culmination of a long journey," Barack said. "Just as you were rounding the final turn, the world threw a pandemic your way. … That's a lot to ask of anybody, but despite all that, here you are."
"What's happening right now is the direct result of decades of unaddressed prejudice and inequality," Michelle said. "For too many people in this country, no matter how hard they work, there are structural barriers for them that just make the road longer and rockier. … If you can't even approach the police without fearing for your life, well, then how do you even begin to chart your own course?"
And as always, Lady Gaga also made an appearance to deliver a heartfelt message to the graduates.
#DearClassOf2020, you are the seeds of our future, and you have the power to make this world a better place. Join me, @BarackObama, @MichelleObama and many others with @YouTube in honoring your accomplishments today at 12PM PT https://t.co/gExT3J51zJ pic.twitter.com/HlPSVQxpPy

— Lady Gaga (@ladygaga) June 7, 2020
Gaga said there is "much to be sad about, there is much to be celebrated. You are watching what is a pivotal moment in this country's evolution. You're watching society change in a deeply important way."
If you're in the mood to be inspired, click here to watch the entire thing and see who else had something to share with the future change-makers.