A Magician In Treating The Kids and Healing Their Souls
It was a true honor sitting down with Dr Mohamed Hosny, one of Egypt's brightest doctors and the top in the field of Pediatric Orthopedic, who has successfully completed a number of fellowships from several universities in Germany and the US.
A doctor who is sought by many families and has made it possible to seek professional help without having to travel long distances, because why travel abroad when we have got a bright doctor of our own here in Egypt?
Dr Mohamed Mostafa Hosny is currently the head of Pediatric Orthopedic Unit in Tanta University, with a license to work in both Dubai and Germany but choosing to spend most of his time in Egypt comes in light of duty to give back to his country.
We were certainly stunned by the number of certificates and clinical fellowships that he obtained from several prestigious universities abroad, to which he explained that this is the norm for a university professor because life is in a constant change, discoveries are made every day and that is why he needs to always be updated and caught up with the latest in his field, as knowledge is truly limitless.
When asked why he chose this certain specialty, he told us that it is because in Egypt we lack doctors and staff in this field and that it is kind of limited here in Egypt compared to other countries.
Another reason, a very touching one, is that when a child is sick, the doctor become responsible for the entire family and not just the child. He is responsible of comforting all family members, assure them constantly and work relentlessly to help them, because when a child gets sick, the whole family feel down and sick as well especially if the kid is facing a certain disability. It is Dr Hosny's responsibility to treat them all.
The lack of such care, knowledge and understanding of this concept is what makes Dr Hosny attached to working in Egypt, and eager to help more and more families get through tough times.
"It is a matter of family having a problem, not just a matter of one patient."
Just hearing the doctor explain this makes one realizes that it is not an easy job at all, because to treat a patient is one thing and to take care of an entire family is a whole other thing. So in order for him to be prepared for such a responsibility, he have taken courses in the phycology of patients and how to treat kids. After all, you are working with young children who surely hate the sight of scrubs and will fight you off. That's why in his office, he is always prepared with cookies and balloons!
'It's not a matter of the body alone, it's a matter of a soul that you have to take care of."
This is what Dr Mohamed Hosny teaches young physicians, he teaches them how to care of the young kids first and then how to be a good physician.
"You first learn how to be a human, then how to be a doctor and at the end how to be a good doctor."
The one thing that keeps Dr Hosny going and motivated to carry on is seeing the outcome and change that he successfully made possible. For instance, having a parent inviting him for an occasion, informing him that their kid insists he shows up, these small details warm his heart and push him further towards more success.
The more smiles you see, the gratitude parents show, a simple thank you, are all what truly counts in such a stressful profession.
'You have to think of them as one of your own,' is what Dr Hosny does, and is why he believes he has a way with kids. After all, he is a human being and he is a father who treats his patients with compassion and empathy.
Finally, Dr Hosny expressed his tremendous appreciation for his wife for taking care of everything while he isn't around and for her endless support. His dad for being a great mentor and role model, and all the doctors who taught him and guided him through his journey.
'Knowing that someone is having your back and looking out for the kids is what kept me moving forward.'
It gives us utter pride to witness someone who is striving to treat families, someone who is putting patients' needs ahead of his and is always keen to learn more and teach young physicians how to become the best versions of themselves.
Mohamed Ramadan Under Fire After Posting A Picture With an Israeli Singer
Mohamed Ramadan sparked controversy and is currently under fire for posting a picture with an Israeli singer, the thing that angered many of his fans and even though the singer and actor deleted the photo shortly after, he's still under attack.
According to Ramadan, he didn't know the nationality of the person and he says that normally he doesn't ask each and every person who asks to take a picture with him about his nationality.
However, social media people shared videos of the party that Ramadan was at and they're saying that it included many Israelis and that one of Israel's popular songs was played during the party.
The singer and actor Mohamed Ramadan responded today to all fans saying that he normally doesn't ask people about their nationality and that he is 100% pro the Palestinian case, attached with his tweet was a video of him with a Palestinian.
مابسألش عن بلد اللي بيتصور إلا لو هو لوحده قال وده ڤيديو في نفس الوقت ونفس المكان مع شاب فلسطيني!! وبوجه فيه تحية للشعب الفلسطيني الشقيق !! تجاهل البعض لهذا الڤيديو يأكد ان القصد ليس القضية الفلسطينية ولكن قضيتهم الحقيقية هي المحاولة ال١٠٠٠ لإيقاف نجاحيوشعبيتي #ثقه_في_الله_نجاح pic.twitter.com/UxMniEwXcq

— Mohamed Ramadan (@Mohamed_Ramadan) November 22, 2020
The head of the Egyptian Acting Syndicate, Ashraf Zaki, confirmed during his phone call with an Egyptian TV program, that he communicated with Muhammad Ramadan, and the latter denied his knowledge of the Israeli artist, saying: "I swear to God I didn't know who he was, I was in an Arab country and took this picture."
What do you think? Are you with or against the action of Mohamed Ramadan?
Tamer Hosny and Bassma Boussel Are Splitting Up and Drama Followed Them on Social Media!
After eight years of marriage, superstar Tamer Hosny and Morrocan star Bassma Boussel filed for a divorce, the news that shortly went viral.
Boussel posted on her official Instagram, a story expressing how upset she is at fans, who keep sharing photos of her and Tamer Hosny. She urges her fans to stop sending footage or tagging her and consider her feelings.
Later on, she added that they're already in the process that follows their separation and are on the final regulations of divorce. She didn't keep that story for long though and deleted it shortly afterwards.
The news of their divorce has gone viral in a short time, even though Boussel didn't keep the story for long. It's currently one of the widely discussed topics, and the couple are urging people to respect their privacy.
We wish them both the best and for god to grant them peace.
After Months of Dispute, Assala and Ahlam Finally Reconciled!
We have some uplifting news for you! After months of dispute and tension between Assala and Ahlam, both superstars finally made up following the interference of Ahlam's son Fahed Mubark who tweeted that his mother actually listen to Assala more than he does.
Assala then replied to his tweet expressing her love to Ahlam despite everything that happened between them, she even joked with her and asked her which song she liked the most in the album.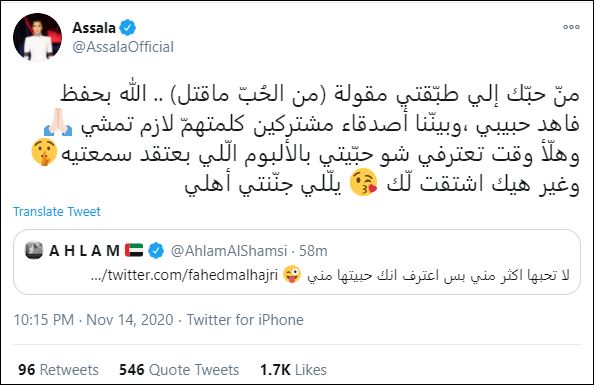 The two superstars then started to exchange tweets, to which Lebanese star Elissa replied and expressed her happiness that they have finally made up, saying that she love the both of them and wishes them good. This isn't the first time Elissa tries to make things better between them both.

The story of this dispute first started when Ahlam congratulated Assala for her new song "Bent Akaber," but when Assala didn't reply on the post, Ahlam deleted it and the clash ended with her blocking Assala on Twitter.
We're just glad that after all this time, they both admitted their love to one another and Ahlam even tweeted a reply to her son that she loves Assala more than he does.
We wish them both happiness and for things to remain peaceful between them both.