It's A Cat! It's A Plane! It's Mekawy
It's a cat! It's a plane! It's Mekawy, ladies and gents! One of Cairo's hottest names at the moment. We first came to know him as the insane comedian on El Mohayesoon TV show a few Ramadans ago. Mekawy is currently the co-founder of Double Trouble agency and a big shot media guru aka. influencer. We decided to take Mekawy out to Coco to ask him about a few things that a lot of peeps have been curious to know. So, let's go then!
We started by of course, the most obvious question in interview history; "Mekawy, are you single?" and yes, groupies, he is indeed a bachelor, so calm down! We then found the audacity to ask him if he'd ever date a fan and he replied that although a lot of people would say no, but he definitely wouldn't mind; he stated "Law mozza yeb2a leih la2?" A little too superficial, dude? but alright, definitely not rolling my eyes at you…
Turning up the heat a bit, we asked him about what attracts him the most in a woman, and unfortunately I cannot quite state his answer, but let's just say that it has something to do with rear ends…We then asked him about the best way a woman could get his attention and again, with extreme class, he replied "She could either scream or take off her clothes". I mean, whatever works for you, man. *cough sexist cough*.
Moving on, we asked Mekawy about the bravest thing he's ever done and of course, El Mohayesoon had to be brought up! He told us about the time he had to take a shower in a public fountain and that other time that Amr Mcgyver set him on fire for entertainment purposes!
Next question was about the thing that makes him happiest and he gave it no second thought when he immediately answered "My mother" and we think that this is really sweet. Then, we just had to let him tell us about the most embarrassing moment of his life, Mekawy jokingly replied "Heya di!".
Mekawy couldn't choose a favourite film when we asked him to pick one, neither was he able to tell us about a scene that might've once caused him to weep. However, he spoke about how sensitive he actually is as a person and literally accidentally broke his coffee mug while at it! whoa, man. Easy.
It didn't come much as a surprise when we asked Mekawy about what he'd be doing if he weren't who is today, and he responded "I'd be acting". And we wish you all the luck in the world, dude!
Yasmine Sabry was Mekawy's first choice for a love scene partner in a film. He also added that he'd definitely do an Arabic version of 50 Shades of Grey and he'd choose Sherine Reda as his love interest in it. When we asked him about his high school crush, he instantly uttered "Salma Hayek!"
We wanted to get more intimate and ask him about his biggest fear, he replied that he has two fears in life: Being lonely, and losing the love of the people around him. After that, came the dreaded question about the thing he hates the most about himself and Mekawy didn't hold back when he told us it is definitely his bad temper.
The man got hungry in the middle of our interview and decided to get a salad, but of course, we didn't let him off the hook that easily, instead, we carried on with our questions at the salad bar. So, we hit him with our next question "Could you tell us about your daily routine?", Mekawy told us "It's very simple, I definitely never hit the gym, so, my normal day consists of me going to work in the morning, then going out with my friends and enjoying some hookah in the evening and that's about it."
We asked him abut his dream car and to our surprise, he told us that he isn't interested much in cars, it is more about motorcycles for him, and if he did actually have a dream car, he still wouldn't buy it because he knows he'd crash it at some point!" and we appreciate the honesty. He really wants to get a spider bike, though!
We couldn't, of course let the opportunity slip without asking him about his opinion on the amount of fashionistas rising daily to stardom at the moment, and the dude was very diplomatic in his answer when he said that it's always the case that there's good and bad in all industries, so he believes that some fashion bloggers really do understand fashion but some just simply don't.
Now, the important bit for all you ladies swooning over him. We finally asked him about his current crush, and he said that he doesn't have one, at least not for the time being.
We were very curious to know what his very first date ever was like. He told us that he's actually only been on one date his entire life! He then spontaneously added that he isn't much of a fan of the whole "Going out one on one" thing, he actually always lets his friends tag along on his dates. Dude, no. Seriously, don't do that. wrong move.
Here are a few more facts about Mekawy:
-He loves to wear black
-He doesn't know how to cook
-His favourite foods are molokheya bel araneb and ferakh panne
-He basically eats anything and everything
Thank you so much for giving us your time, Mekawy and we hope you enjoyed this interview as much as we did!
Mohamed Ramadan Under Fire After Posting A Picture With an Israeli Singer
Mohamed Ramadan sparked controversy and is currently under fire for posting a picture with an Israeli singer, the thing that angered many of his fans and even though the singer and actor deleted the photo shortly after, he's still under attack.
According to Ramadan, he didn't know the nationality of the person and he says that normally he doesn't ask each and every person who asks to take a picture with him about his nationality.
However, social media people shared videos of the party that Ramadan was at and they're saying that it included many Israelis and that one of Israel's popular songs was played during the party.
The singer and actor Mohamed Ramadan responded today to all fans saying that he normally doesn't ask people about their nationality and that he is 100% pro the Palestinian case, attached with his tweet was a video of him with a Palestinian.
مابسألش عن بلد اللي بيتصور إلا لو هو لوحده قال وده ڤيديو في نفس الوقت ونفس المكان مع شاب فلسطيني!! وبوجه فيه تحية للشعب الفلسطيني الشقيق !! تجاهل البعض لهذا الڤيديو يأكد ان القصد ليس القضية الفلسطينية ولكن قضيتهم الحقيقية هي المحاولة ال١٠٠٠ لإيقاف نجاحيوشعبيتي #ثقه_في_الله_نجاح pic.twitter.com/UxMniEwXcq

— Mohamed Ramadan (@Mohamed_Ramadan) November 22, 2020
The head of the Egyptian Acting Syndicate, Ashraf Zaki, confirmed during his phone call with an Egyptian TV program, that he communicated with Muhammad Ramadan, and the latter denied his knowledge of the Israeli artist, saying: "I swear to God I didn't know who he was, I was in an Arab country and took this picture."
What do you think? Are you with or against the action of Mohamed Ramadan?
Tamer Hosny and Bassma Boussel Are Splitting Up and Drama Followed Them on Social Media!
After eight years of marriage, superstar Tamer Hosny and Morrocan star Bassma Boussel filed for a divorce, the news that shortly went viral.
Boussel posted on her official Instagram, a story expressing how upset she is at fans, who keep sharing photos of her and Tamer Hosny. She urges her fans to stop sending footage or tagging her and consider her feelings.
Later on, she added that they're already in the process that follows their separation and are on the final regulations of divorce. She didn't keep that story for long though and deleted it shortly afterwards.
The news of their divorce has gone viral in a short time, even though Boussel didn't keep the story for long. It's currently one of the widely discussed topics, and the couple are urging people to respect their privacy.
We wish them both the best and for god to grant them peace.
After Months of Dispute, Assala and Ahlam Finally Reconciled!
We have some uplifting news for you! After months of dispute and tension between Assala and Ahlam, both superstars finally made up following the interference of Ahlam's son Fahed Mubark who tweeted that his mother actually listen to Assala more than he does.
Assala then replied to his tweet expressing her love to Ahlam despite everything that happened between them, she even joked with her and asked her which song she liked the most in the album.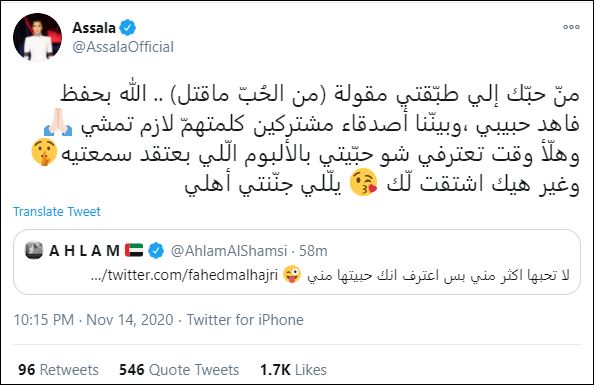 The two superstars then started to exchange tweets, to which Lebanese star Elissa replied and expressed her happiness that they have finally made up, saying that she love the both of them and wishes them good. This isn't the first time Elissa tries to make things better between them both.

The story of this dispute first started when Ahlam congratulated Assala for her new song "Bent Akaber," but when Assala didn't reply on the post, Ahlam deleted it and the clash ended with her blocking Assala on Twitter.
We're just glad that after all this time, they both admitted their love to one another and Ahlam even tweeted a reply to her son that she loves Assala more than he does.
We wish them both happiness and for things to remain peaceful between them both.