7 signs you were raised by an Egyptian mother
This mother's day take time to admire the privileges of having an Egyptian mother. Mothers come in all shapes and sizes. But when, you happen to land in an Egyptian mother hands at birth, there's no escaping from her fixed set of beliefs and bringing up techniques. No matter which background she comes from. There is this Egyptian Mothers Manifesto. It's not written, she doesn't learn it at school, but somehow it's an implicit agreement between all mothers of Egypt. Here are seven signs that you definitely have been raised by an Egyptian mother:
1. She knows what you did, what you're doing, and what you will do. She knows when what where and why. Your mother has her own special private spy often referred to as "the bird", and yah man, she does know it all. When this belief haunts you, you find it impossible to ever think of lying to your mom, as she will always know the truth. Though, if you're a little rat, this fact will challenge your little dirty mind to come up with a complete neat lie.
2. Your mom raised you up to a certain set of beliefs that shaped your world as a child. Heaven is up the sky and hell is down below earth. If you don't finish your plate, the left food will come after you on Judgment Day. If you play with matches, you'll wet your bed at night. And the famous " Ommena El Ghoola" and " Abu Regl Maslokha" these are the night visitors who will come every time you misbehave.
3. The word "Zeft" becomes an essential part of your formation. The dictionary meaning of the word is tar, but in Egypt is refers to "bad". It can mean extremely bad or slightly bad, most importantly, it can refer to anything and everything. You yourself can be the "zeft" personally, or she may use the word to refer to the remote control device. It's a motherly method of enhancing your creative thinking skills. For every time your mom uses the "Z" word, your brain is challenged to take wild guess what she means by "Z" this time.
4. Reverse psychology works best with her. If you ever want to get her approval on something, complain that your father refuses or banns it. Subconsciously she'd want to gain points against your father, so she agrees to everything he rejects.
5. Deciding whether you're a grown up or still just a kid for your mother is a matter of mood. It depends on her strategic plans and what she is expecting from you in every situation separately. So, at early age, if you wanna go on a vacation with your friends, then for her you're too young to travel by yourself. But, if she wants to go out with your dad to a late dinner, then, you're all grown up and can take care of yourself, your siblings, and the whole house!
6. She always got your back. Even the strictest mother will always have some change hidden here or there that she brings out at the right time. When you're going on your first date, buying a new car and few pennies are left, or she'd pay the last installment for your house.
7. No one is ever sure of the outcome, but in general, your mother made sure that you respect the elder and will be kind to the younger. She built it in you that you can never make it in life without the right certificate hanging on your wall. You'll never succeed in life as long as she is not satisfied with you. You should never love your wife than her. Most importantly, her family loves you more than your dad's family.
Well these are only few major common signs. The list can go on and on. But one thing for sure is that having an Egyptian mother is a unique, rich, overwhelming emotionally, yet funny life experience. Happy Mother's day.
Mohamed Ramadan Under Fire After Posting A Picture With an Israeli Singer
Mohamed Ramadan sparked controversy and is currently under fire for posting a picture with an Israeli singer, the thing that angered many of his fans and even though the singer and actor deleted the photo shortly after, he's still under attack.
According to Ramadan, he didn't know the nationality of the person and he says that normally he doesn't ask each and every person who asks to take a picture with him about his nationality.
However, social media people shared videos of the party that Ramadan was at and they're saying that it included many Israelis and that one of Israel's popular songs was played during the party.
The singer and actor Mohamed Ramadan responded today to all fans saying that he normally doesn't ask people about their nationality and that he is 100% pro the Palestinian case, attached with his tweet was a video of him with a Palestinian.
مابسألش عن بلد اللي بيتصور إلا لو هو لوحده قال وده ڤيديو في نفس الوقت ونفس المكان مع شاب فلسطيني!! وبوجه فيه تحية للشعب الفلسطيني الشقيق !! تجاهل البعض لهذا الڤيديو يأكد ان القصد ليس القضية الفلسطينية ولكن قضيتهم الحقيقية هي المحاولة ال١٠٠٠ لإيقاف نجاحيوشعبيتي #ثقه_في_الله_نجاح pic.twitter.com/UxMniEwXcq

— Mohamed Ramadan (@Mohamed_Ramadan) November 22, 2020
The head of the Egyptian Acting Syndicate, Ashraf Zaki, confirmed during his phone call with an Egyptian TV program, that he communicated with Muhammad Ramadan, and the latter denied his knowledge of the Israeli artist, saying: "I swear to God I didn't know who he was, I was in an Arab country and took this picture."
What do you think? Are you with or against the action of Mohamed Ramadan?
Tamer Hosny and Bassma Boussel Are Splitting Up and Drama Followed Them on Social Media!
After eight years of marriage, superstar Tamer Hosny and Morrocan star Bassma Boussel filed for a divorce, the news that shortly went viral.
Boussel posted on her official Instagram, a story expressing how upset she is at fans, who keep sharing photos of her and Tamer Hosny. She urges her fans to stop sending footage or tagging her and consider her feelings.
Later on, she added that they're already in the process that follows their separation and are on the final regulations of divorce. She didn't keep that story for long though and deleted it shortly afterwards.
The news of their divorce has gone viral in a short time, even though Boussel didn't keep the story for long. It's currently one of the widely discussed topics, and the couple are urging people to respect their privacy.
We wish them both the best and for god to grant them peace.
After Months of Dispute, Assala and Ahlam Finally Reconciled!
We have some uplifting news for you! After months of dispute and tension between Assala and Ahlam, both superstars finally made up following the interference of Ahlam's son Fahed Mubark who tweeted that his mother actually listen to Assala more than he does.
Assala then replied to his tweet expressing her love to Ahlam despite everything that happened between them, she even joked with her and asked her which song she liked the most in the album.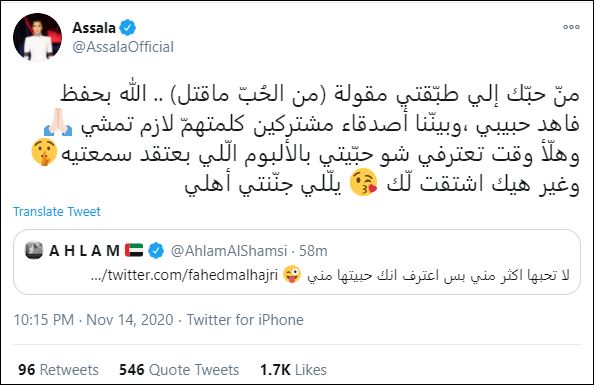 The two superstars then started to exchange tweets, to which Lebanese star Elissa replied and expressed her happiness that they have finally made up, saying that she love the both of them and wishes them good. This isn't the first time Elissa tries to make things better between them both.

The story of this dispute first started when Ahlam congratulated Assala for her new song "Bent Akaber," but when Assala didn't reply on the post, Ahlam deleted it and the clash ended with her blocking Assala on Twitter.
We're just glad that after all this time, they both admitted their love to one another and Ahlam even tweeted a reply to her son that she loves Assala more than he does.
We wish them both happiness and for things to remain peaceful between them both.